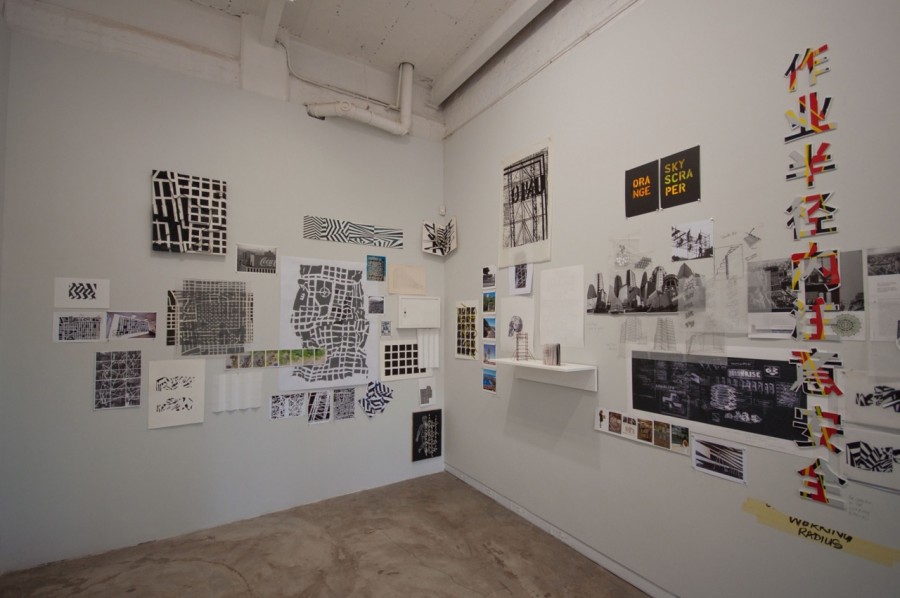 David Krut Projects hopes that this wall installation allows one to view the work of Stephen Hobbs from a different perspective by showcasing selected notes and drawings, works on paper, studio experiments and games, sculptures, photographs, and Borgesian meditations on particular core themes and concerns of Hobbs' work.
This installation has connections to the artist's past, current and future projects. One is able to see how the works influence and explain each other and how time becomes dislocated. The development of Hobbs' work as a constellation, rather than a chronology, is clear. Figures and objects become layered, interpolated and reconfigured to shift interpretation and add layers of meaning that blur the lines between a finished and unfinished work, the studio and the gallery, and between projects from five years ago and those planned for the next five. Projects such as the ongoing work with the Johannesburg Art Gallery and its surrounding areas, entitled JAG SNAG; 2010's Fool's Gold exhibition at David Krut Projects; Hobbs' ongoing focus on cities and architecture; the newly-opened Alive Wall at Narina Trogon, Braamfontein; and the intaglio, lino and woodcut print projects created in collaboration with David Krut Print Workshop (DKW).
The title, Orange Skyscraper, is on the one hand a references to one of the collages in the wall installation, but, more importantly, the title is evocative of the spectacle that surrounds the phenomenon of skyscrapers and cities.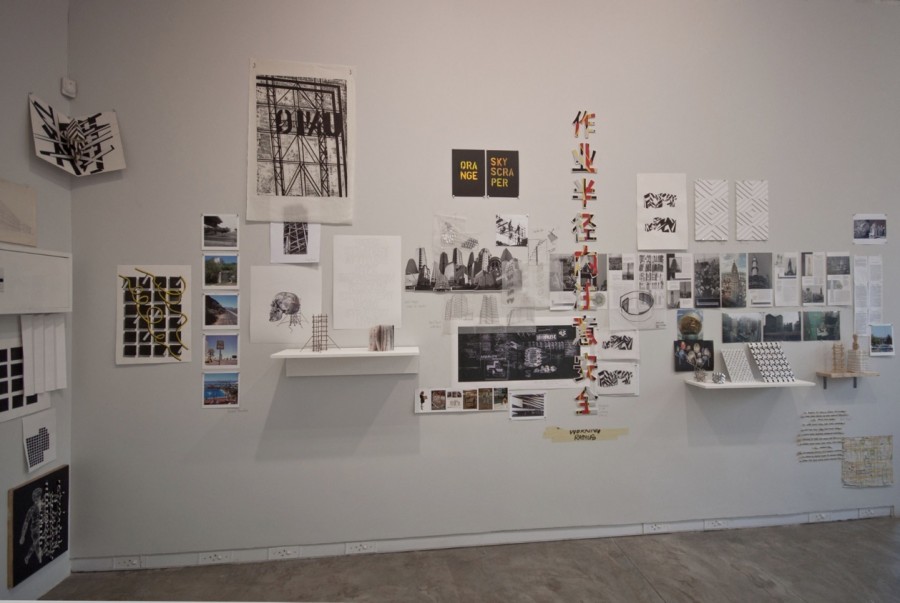 Some notable works in this installation include:
Early experiments in dazzle – camouflage and the use of art and graphic design to expose the vagaries and commonly-accepted certainties of perception; the planning sketches for the dazzle patterning on the walls of the Outlet Project Room on the Tshwane University of Technology Arts Faculty Campus; the first skyscraper collage that would go on to inspire the works City Dazzle and The Catalogue of Forms Is Endless…; a graphic sculpture inspired by Chinese construction and development  in Mozambique; preparatory work – including working drawings and plans on tracing paper – for the aquatint print Study for the Replication of the Earth's Surface; a preview of a new woodcut image created with DKW. An old map of Johannesburg positioned in the lower left corner of the installation which acts as a key whose presence can be detected permeating the layers and groupings of the installation.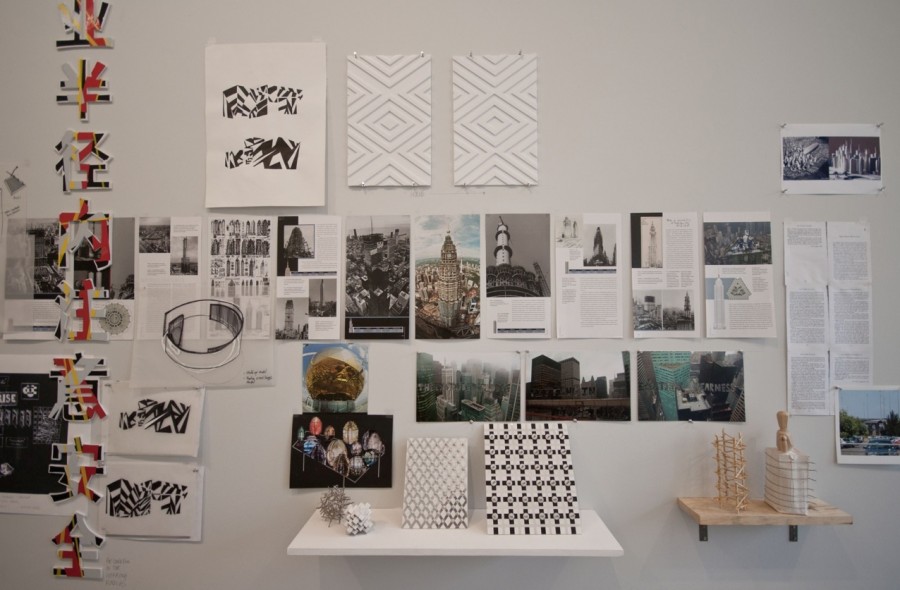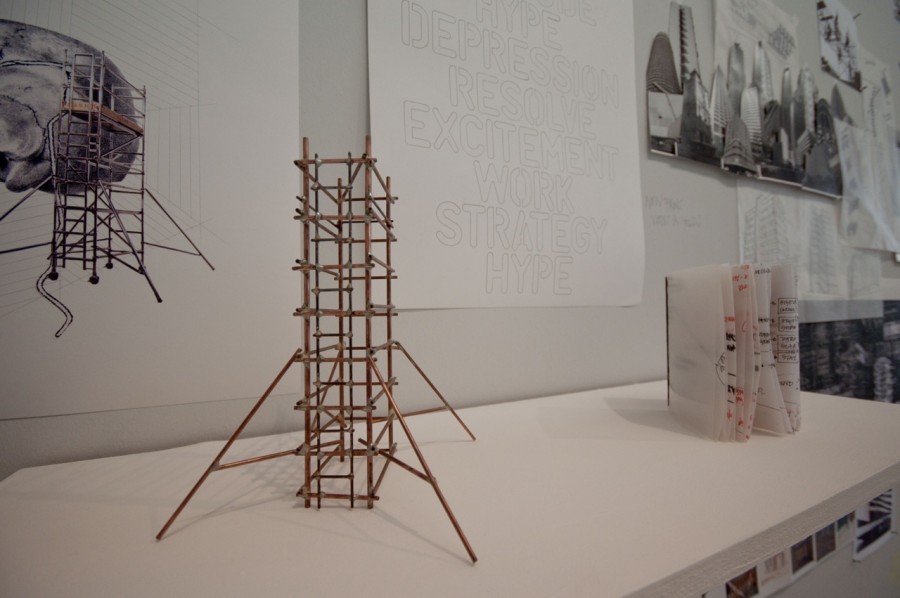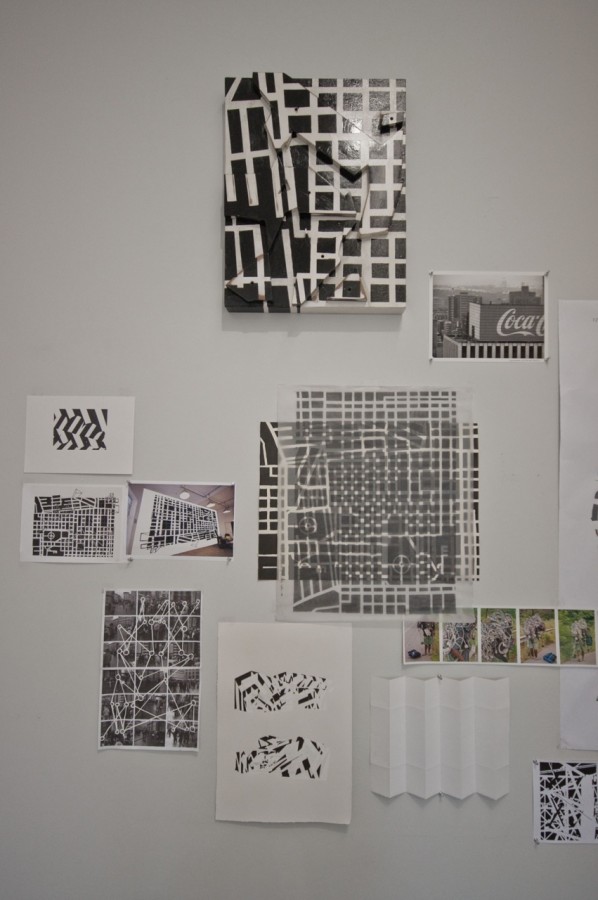 [ All images above courtesy Stephen Hobbs, 2012.]
This is the second installation by Stephen Hobbs at David Krut Projects, Arts on Main, following Grey Dots at the Intersection in 2011.
Below: JAG SNAG installation, Johannesburg Art Gallery, 2011.