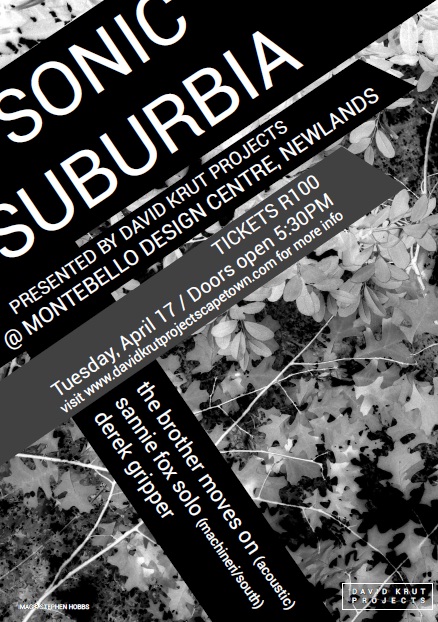 On Tuesday 17 April the first of a series of live music events, Sonic Suburbia, will be presented by David Krut Projects Cape Town in collaboration with Hagar Graiser at the Montebello Design Centre in Newlands. For this first event, the line-up is Derek Gripper, The Brother Moves On and Sannie Fox's solo project.  The focus of the series is on art music – music that is not created for the purposes of commercial release but comes from the genuine desire of the musician to express a sentiment through the medium of original composition, often involving collaboration, instrument exploration and experimentation. The experience will play out under the old tree canopy in the courtyard of The Gardener's Cottage restaurant.
The musicians chosen for this series reflect a wide spectrum of the South African music landscape and all artists have a clear artistic philosophy regarding music and its capacity to transcend. All the artists will be performing acoustic or stripped down versions of their projects in order to create a unique experimental experience for both artist and audience.
Tickets on sale now for R100 each. To book, email [email protected].
Tables for dinner will be available, bookings made on a first come, first serve basis.
To book a table contact The Gardener's Cottage on 021 689 3158.
Drinks will be available from a cash bar.
High res images are available on request. Should any members of the media wish to attend this event please contact [email protected].
Visit www.facebook.com/sonicsuburbia for updates.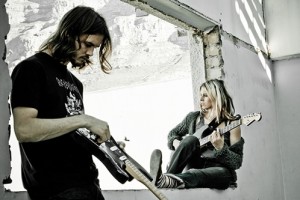 Sannie Fox is a guitarist and singer based in Cape Town. She grew up listening to a healthy blend of folk, soul, blues and classical music and is described by The New Age as belting out the blues like she was born in a Louisiana swamp. Her first appearance on the music scene was as part of the three-piece folk-trio Black Betty (featuring Hagar Graiser on electric guitar and Galina Juritz on violin), which later expanded into the eclectic blues-rock 5 piece known as Mama Know Nothing. In 2010 Sannie launched the guitar wielding force that is machineri featuring Andre Geldenhuys on electric guitar. machineri is a hard blues-folk trio described as having a "lyrical and primal sound" (One Small Seed) and released their debut album at the turn of 2012. Fox will be performing solo for Sonic Suburbia and listeners can look forward to a voice that is "soulful, deep and grips the blues by its horns. Her 'analogue-ish', old vinyl sound can be compared to the likes of Etta James and Ella Fitzgerald" (Tonight Music, Argus).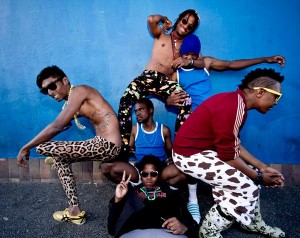 The Brother Moves On (TBMO), visiting from Johannesburg, will present an acoustic set with a smaller band contingent than usual. The band has described themselves as a playful site specific collaborative piece of performance art, and has received a lot of attention in Johannesburg and Cape Town for their unconventional performances and the unique thinking they apply to their act. Siya Mthembu, the front man of the operation has said, "We're not an African funk, tribal rock or Afrospiritual band. We're not a band at all. We're an art collective." Part-theatre, part-live music, part-performance art, the happening otherwise known as the band echoes the great tradition of storytelling, and uses music as a medium of tying the traditional to the contemporary. The music is symbolic of post folk rock Afrique indie kids who boldly claim their heritage as part of a transition generation in South Africa.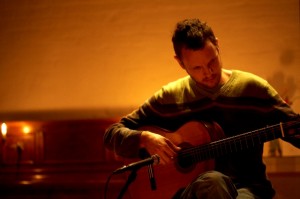 Derek Gripper is a guitarist whose ground-breaking solo compositions demonstrate a wide musical palate: from African bow and harp music, to contemporary minimalism and free improvisation, to the sounds of musicians like Egberto Gismonti, Toumani Diabate, Ali Farka Toure and Anouar Brahem. His performances "push the boundaries of what you think local music should sound like," (Cape Town Underground) and Julian Jonker has called him a "classic of Cape music. Gripper follows in the footsteps of Abdullah Ibrahim and all the best painters of the Cape's aural landscape." His latest recording, The Sound of Water, was nominated for a South African Music Award for best classical and instrumental record of 2012.