NIROX Foundation in partnership with the Goethe-Institut and David Krut Projects has had the pleasure of hosting and working with renowned artist Jürgen Partenheimer. Partenheimer is a major German artist with a distinguished international career. Throughout his career he has engaged successfully in interdisciplinary projects in which he addresses the issue of artistic intermediality, inspiring collaborations across various disciplines, with special focus on contemporary music and poetry. Having taught extensively throughout the world as a visiting professor, he is an articulate and fluent speaker.
Jürgen Partenheimer's residency at NIROX Foundation started on 16 September and ran until 15 November 2011. Since his arrival at NIROX, he has met and engaged with local artists and arts personalities to develop a fascinating programme. Some of his activities included an exhibition at NIROX Projects, in early November, showing work done at his Nirox studio and a poetry reading by Lebo Mashile and Jill Richards's performance of a piece  by Kevin Volans, who had recently dedicated a composition to Partenheimer's work. Leading up to the event Partenheimer produced an artist book of Lebo Mashile's recent poems inspired by his work, in collaboration with Mark Attwood and Lunetta Bartz. As a tribute to their collaboration, Lebo will read and perform her poetry in the NIROX Amphitheatre at sunset on Sunday 12 November, in Kromdraai. He added to his South African Diaries portfolio with a suite of prints made at David Krut Print Workshop at Arts on Main with printmaker Jillian Ross.
Amongst the events the artist has been invited to participate in is an intimate conversation about his passion for books. The evening was hosted by Bronwyn Law-Viljoen, from Fourthwall Books, in conversation with the artist at David Krut Projects at Arts on Main. He was also invited by the Wits School of the Arts to present a critique session for the senior students at Wits University before the end of his residency.
While in South Africa, Partenheimer commented that he felt like he was in a kind of stylistic exile. He found that for the most part people tried to demystify and figure out what his work was about, trying to apply physical traits to the work. He noted that many artists and students are concerned with narrative and identity. For an artist that dedicates much of his time to compiling artist books, Partenheimer is not as concerned with the notion of storytelling as he is with form and the quiet spaces in between the images he creates and the poetry that accompanies them. It's not about verification of a recognisable image, rather allowing the image to reveal itself to you. In his talk  with Bronwyn Law Viljoen at David Krut Projects, he elaborated on this idea explaining that he collects lines and notions. The negative spaces and the positive form a line that is defined by the other. As far as abstract work goes, it is a point of departure from which the viewer should be allowed to be engulfed by the image. For the titles of his work, he strives to find an equivalent for the abstract work. In an earlier body of work, instead of a title he put a time limit of how long one must stand there to look at it. The intention was for the viewer to be free from what they project onto it, letting the work appear to them as it should.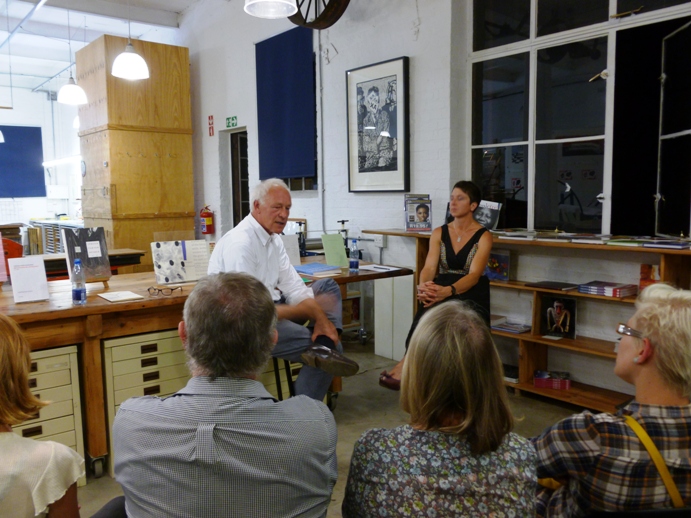 Partenheimer explains that the exhibition catalogue is a lot like that. It doesn't seek to represent anything other than itself, say that "The book will reveal itself through its own imagery and encounter with text." The publication is an integral aspect of the work. The museum catalogue is something you take with you from the show, not as something to compare to the exhibition, instead it functions as an object unto itself. Bronwyn Law Viljoen, in her conversation with Partenheimer, put this into perspective saying, "Books don't come to you, you have to go to it and feel compelled to open it and read it."
Partenheimer's favourite kind of book is the children's book. The use of the bold letters and the interplay of language and imagery become a rhythmic dance. This playfulness is evident in his book Seeds and Tracks created at Artists Press Studios in Nelspruit. The cover is made up of the bold jumbled-up letters that are puzzle-pieced together to spell out the title. The artist's book is based on his experience on South Africa. He explains that we leave seeds and tracks wherever we go. He wanted to feature three of the eleven official languages, using English, Zulu and Xhosa.
The prints he created at David Krut Workshop form part of his portfolio of work done in and inspired by South Africa. He explains the most interesting aspect of developing a print is that you discover images through the conceptual transferring of the technique to create an image representing the technique. The combination of different techniques requires a subtle approval to the image. You find out about the print through the steps of printmaking. The interaction of colour and the reaction of colours next to one another plays an important role in his image making. Partenheimer creates a slight shift by selecting colours that are close but just slightly off.
The three large prints are three independent prints that collectively form a triptych. When David Krut invited Partenheimer to create a suite of prints at the workshop, the idea was appealing in the way that one single image is isolated, especially if you don't know the artist. He states that "Three has a very unevenness and is a stranger energy."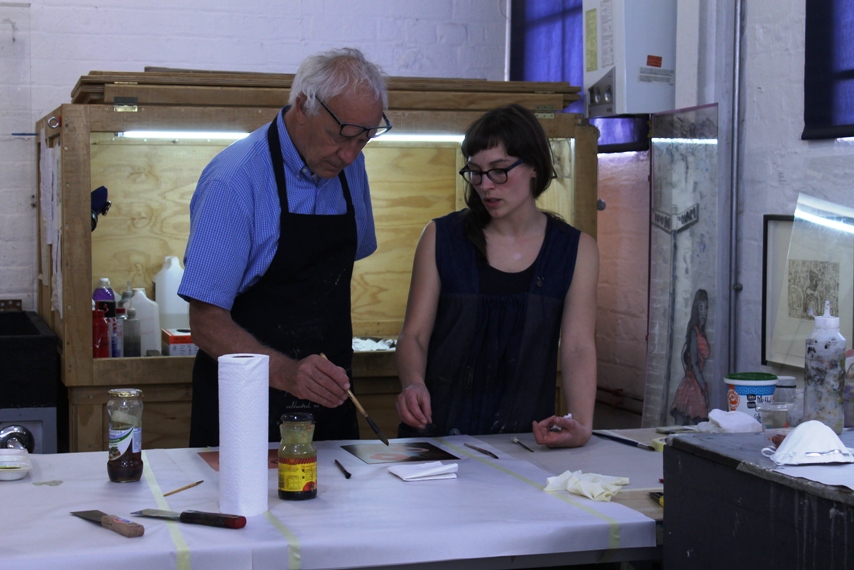 When working with linocuts, you take away from the lino to create the form that you want. It is an indirect way to generate the object that will make the image. Partenheimer says "Lino as a technical necessity is something you discover in an artistic way. You become sculpturally aware of the block."  He approached the block as a separate form allowing the plate to become an image in its own right. Minimalism comes into the work strongly because it forces him to concentrate and to focus on the form. Tracks and Seeds is not embedded in a story where the images make sense. By isolating them the importance is elevated. Partenheimer is not concerned with explaining the work, but rather he talks about the content. The image is beautiful but very abstract; it is lifted metaphorically. Through this he explains that one should try to refrain from projections, letting the image take you away. What is really essential is what is there without you noticing as with literature, poetry and music. He says that what he creates is not sign language. It needs that second gaze.
Folded Spirits corresponds directly to the South Africa Diary; notes, drawings, watercolours, texts, poems, a book with Lebo Mashile and prints made at DKW. He explains that like many of his projects all of the work will essentially become a book. Partenheimer has always done printmaking, with what he describes as a consistent inconsistency. He holds a record of 30 years of making artist books with almost 60 books all dedicated to the printmaking technique worldwide. He is not a printmaker, explaining that he does not want to exploit its virtuosity of the medium but rather to focus on the main characteristics and use them in a minimal and effective way. Each and every print is a little different but the idea of coming close enough without touching remains. The tension created in his works can be best described by Director of Pinacoteca Do Estado in São Paulo, Marcelo Mattos Araújo:
"Like a musical composition, they vibrate with the rhythm, repetition and juxtaposition of forms; they seem to express a state of uncertainty and inconsistency, seductively calling in question the viewer's own preconceived certainties." (2004)