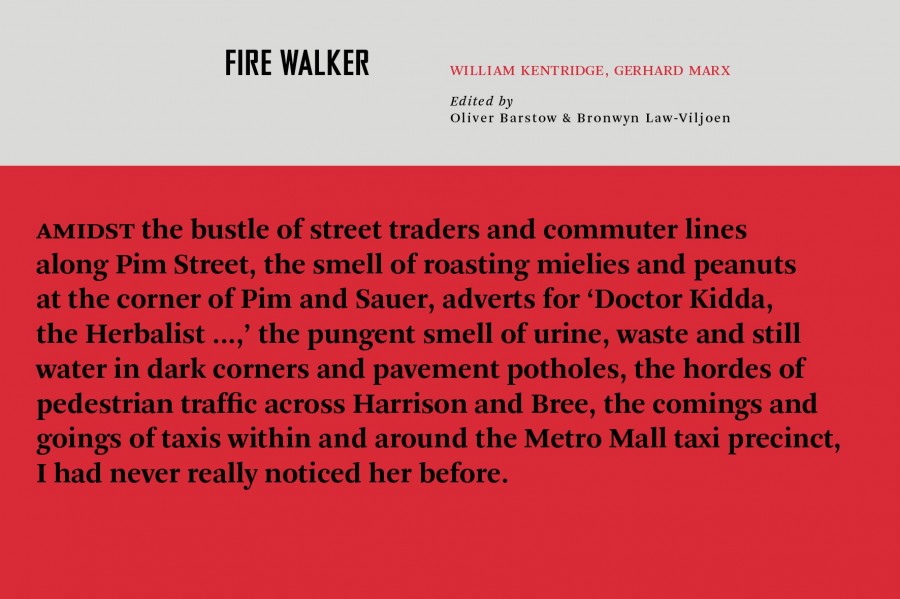 Fourth Wall Books recently launched the Kentridge/Marx publication Fire Walker in New York this year and then again at Arts on Main in Johannesburg.
The book has been edited by Oliver Barstow and Bronwyn Law-Viljoen and it includes essays by Mark Gevisser, Mpho Matsipa, Alexandra Dodd, Jonathan Cane and Zen Marie. The Deluxe Edition of the book comes with signed and editioned prints by William Kentridge and Gerhard Marx and two copies of which are now available from David Krut Projects, Park wood.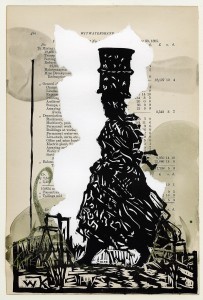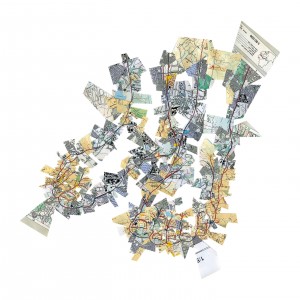 From the website:
In 2009, William Kentridge and Gerhard Marx were commissioned to make a public sculpture for the City of Johannesburg to be installed in time for the 2010 Soccer World Cup. The sculpture is based on a drawing by Kentridge of a woman street vendor—known colloquially as a fire walker—carrying a burning brazier on her head. The eleven-metre-high striding figure would take her place at the foot of the Queen Elizabeth Bridge on a site formerly used by informal traders and taxi washers. Eschewing the bronze monumentalism of traditional public sculpture, Kentridge and Marx devised a figure made up of steel plates that resolves into a coherent image from one vantage point only. A pedestrian passing the sculpture has only a momentary view of the striding woman before the sculpture 'fragments' into its black and white parts.
Fire Walker
represents not a grand public office-bearer, but an ordinary citizen whose survival depends on her abi lity to negotiate often-contested urban terrain.
What began as a project to document the making of Fire Walker has evolved, in this book, into a number of conversations about—and meditations on—the meaning of public art. Essays by Mark Gevisser, Mpho Matsipa, Alexandra Dodd, and Jonathan Cane and Zen Marie prise open critical questions about public space in Johannesburg; interviews with the various collaborators on the sculpture reveal the complexities and challenges of creating such a work; and the extraordinary images of the construction of the sculpture, alongside two photo essays on street vendors and old city monuments, suggest the metaphorical power of Fire Walker as well as the fragile hold of street vendors over their small share of city space.
For more information about the Deluxe Edition Fire Walker books, please conact the gallery. T: 011 447 0627 or E: [email protected] / [email protected]