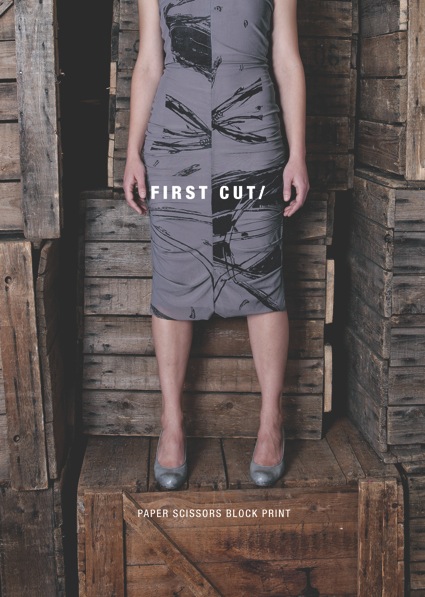 To unite fashion and art for the 2011 FNB Joburg Art Fair, Marie Claire, David Krut Projects and fashion label Guillotine have joined forces to present the installation and performance piece First Cut: Paper Scissors Block Print.
Performance Collaborators:
Lisa Jaffe of Guillotine (fashion designer)
Mary Wafer (artist)
Jillian Ross of David Krut Print Workshop (printmaker)
João Orecchia (musician)
Candice Wyatt (hairdresser)
Expanding on a one-off performance piece Monotype; involving printmaking, two artists, a designer and the endless train of a dress (performed for SA Fashion week in 2010) Jaffe, Ross and Orecchia have decided this year to move away from a one-off piece into the next step in printmaking; the creation of an edition. Last year's project involved artist Maja Maljević and architect Eduardo Cachucho, this year's project is influenced by a woodcut by Mary Wafer and the production of a limited edition clothing range by Guillotine.
For First Cut: Paper Scissors Block Print, Wafer has created a four-piece woodcut (132 x 156 cm) that has been transferred and hand-printed onto fabrics, and later paper, by DKW printmaker Jillian Ross and assistants that ensures each garment is unique. João Orecchia has recorded the sounds made while carving a woodblock, from the electric dremel tool to the traditional carving tools. Mary Wafer's work explores the architectural interiors of apartment-block basements, the ceilings of parking garages and the occasional loose wires tumbling down. Lisa Jaffe looks at the importance of the interior of the garment and often exposes it, turning it inside out.  This piece finds inspiration from the traditional woodblock medium and the exploration of "the interior". Candice Wyatt will have a series of her intriguing wigs incorporated in to the installation that will play their part in the performance. Her hair sculptures portray a strong balance between the feminine and the masculine while making reference to African archetypal aesthetics.
Guillotine's limited edition collection will be available at the FNB Joburg Art Fair 2011. From October the range will be available at 44 Stanley in the new Guillotine store and at David Krut Projects Arts on Main.
Mary Wafer's four-piece limited edition woodcut on paper will be on view at the FNB Joburg Art Fair 2011 at David Krut Projects Booth #12. Her solo exhibitions, Countermeasures, are showing simultaneoulsy at David Krut Projects in Parkwood, Johannesburg and at the Montebello Design Centre, Cape Town.
For more information about Candice Wyatt visit 44 Stanley Avenue or go to the Facebook page.