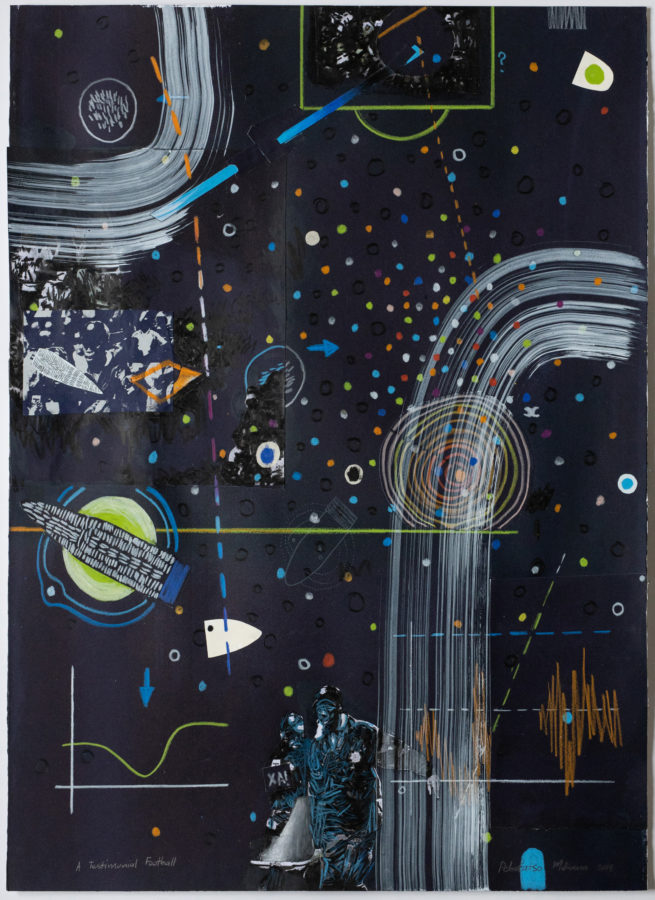 From the Graph Point Series showcased in a solo exhibition titled Internal Probes 2020
Mokoena is interested in exploring ideas surrounding transport and the movement of people. In particular, Mokoena's interest is focussed on the way people move back and forth between their homes and the city in order to pursue work, play and pleasure; and how they organise themselves through transportation as safely and as efficiently as possible.
On a granular level, this plays out in the individual stories of people and their experiences on the move. On a macro scale, the organisation strategies of  people and the ways in which different methods of transportation relate to each other begin to reveal insights into our own national and international consciousness and the ways in which we relate to each other.
-Text by Pebofatso Mokoena
Artist:
---
Title:
A Testimonial Football
---
More about:
---
Year:
---
Artwork Category::
---
Media & Techniques:
---
Sheet Height:
71.1 cm
---
Sheet Width:
55.7 cm
---
Availability:
Available
---
Framing:
Framed
---