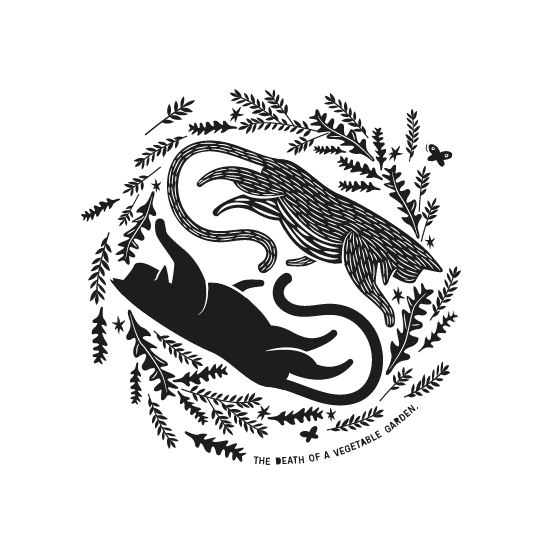 Bio:
Lanita van Niekerk is the founder, director, designer and receptionist of Goood, a one-woman freelance graphic design studio, focused on branding, illustration and everything typography. She spends most of her time comparing typefaces that most people will write off as the same thing.
After working in advertising/branding for 6 years, she decided that no-one can offer her enough leave days, and started taking on her own clients. She now has zero leave days a year.
Lanita is fueled by detailed briefs, clients with money for nice typefaces, everything Paula Scher does, and the coconut shavings in a jar on her desk.
Her studio is occupied by two 'slightly' overweight cats who loves sleeping, walking over keyboards, and constantly begging for attention. They are by far the worst co-workers she has ever had.
Check out more of her work at www.goood.work
Artwork:
'The Death of a Vegetable Garden' is an ode to Van Niekerk's cats, Sir Isaac Mewton and Vincent van Paw, who enjoy using a bed of rocket and cucumbers as exactly that – a bed. They once killed eight green pepper seedlings, three bunches of coriander, and a cherry tomato plant in a single day.
This work is intended to be light-hearted and the only deep-rooted thing about it is the olive tree, which given time, they will also unearth.
Sir Isaac Mewton and Vincent van Paw might be overweight and destructive, but she will continue to love them more than most humans.
Artist:
---
Title:
Lanita van Niekerk - Death to a vegetable garden
---
Year:
---
Artwork Category::
---
Media & Techniques:
---
Sheet Height:
20 cm
---
Sheet Width:
20 cm
---
Availability:
Available
---
Framing:
Framed
---