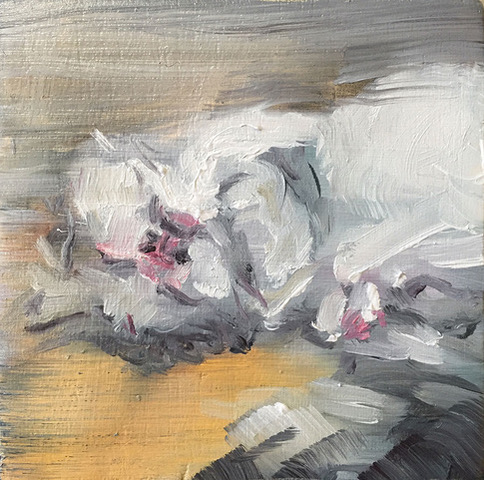 SERIES: Ambidextrous Instagram #pets series
Bio.
Katherine Bull is currently a practicing artist with over a decade of experience lecturing in the visual arts at Stellenbosch University and the University of Cape Town. She is currently a part-time lecturer in Visual Art at the Cape Town Creative Academy and offers private mentorship for artists atFourfold. In 1998 she was awarded a Master of Fine Art degree from the University of Cape Town with distinction. Since then Bull has produced five solo exhibitions, taken part in numerous group exhibitions and performed at international conferences in Poland, USA & Estonia. In 2004 a public sculpture project titled Come to Pass was unveiled, produced in collaboration with artist Fritha Langerman as winners of the 3rd Cape Town Public Sculpture Competition (2002). She was selected for the Ampersand Fellowship in New York (2007), Dwayer International Residency in Alexandria, Egypt (2008) and most recently she participated in a residency in Bologna Italy (2015) as an AIR Laureate (2014).
Bull's creative practice is informed by her interest in mechanisms of perception and cognition in art making and how this is informed by the changing technology of information systems and a contemporary cultural media. Performance has developed as an integral part of her practice bringing multiple media together within installation environments. She brings analogue and digital modes of image making into conversation within performance as a means to reflect on the disembodied and embodying potential of memory-making in the act of representation within the current multimedia cultural environment.
After over eighteen years of lecturing in Visual Art and ten years of studying transformational therapy, I am now committed towards evolving a space of facilitation that focuses on creativity as an empowering self-transformational tool.
Artist:
---
Title:
Katherine Bull - cat @cutecatshow (right hand)
---
Year:
---
Artwork Category::
---
Media & Techniques:
---
Sheet Height:
10 cm
---
Sheet Width:
7 cm
---
Availability:
Not Currently Available
---
Framing:
Framed
---