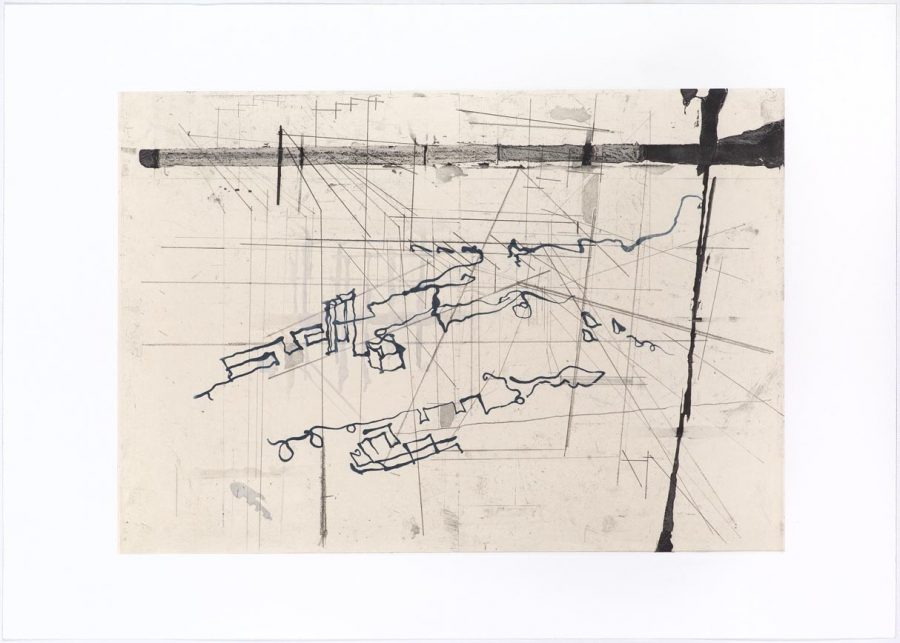 From the series entitled FALLING IN
The artist worked with our team of experienced printers to design three large prints, individually titled Stair, Frame and Park. These etchings are part of a wider, ongoing project called Falling in…, in which Nassimbeni presents various attempts to orientate himself in Johannesburg –"freeing falling", as it were, into its fraught but fascinating dynamics.
The composition and sensibility of each print differs, but all three are structured as overlapping depictions of Hillbrow forty years ago and Hillbrow in 2016. In this way, the prints can be seen to cross-reference each other through subtle repetition of line. To reference Hillbrow in the recent past, Nassimbeni uses precise drafting lines to convey the architectural structures as they were initially conceived. He combines these marks with "thick, organic, broken lines to represent the contemporary wear and tear in the area" (Nassimbeni). For the artist, this complex approach to line is necessary in order to give an honest and visceral portrayal of the social politics inherent to his study.
Artist:
---
Title:
Frame (ed. of 6)
---
More about:
---
Year:
---
Artwork Category::
---
Media & Techniques:
---
Edition Size:
6
---
Sheet Height:
56.6 cm
---
Sheet Width:
79.7 cm
---
Availability:
Available
---
Framing:
Unframed
---