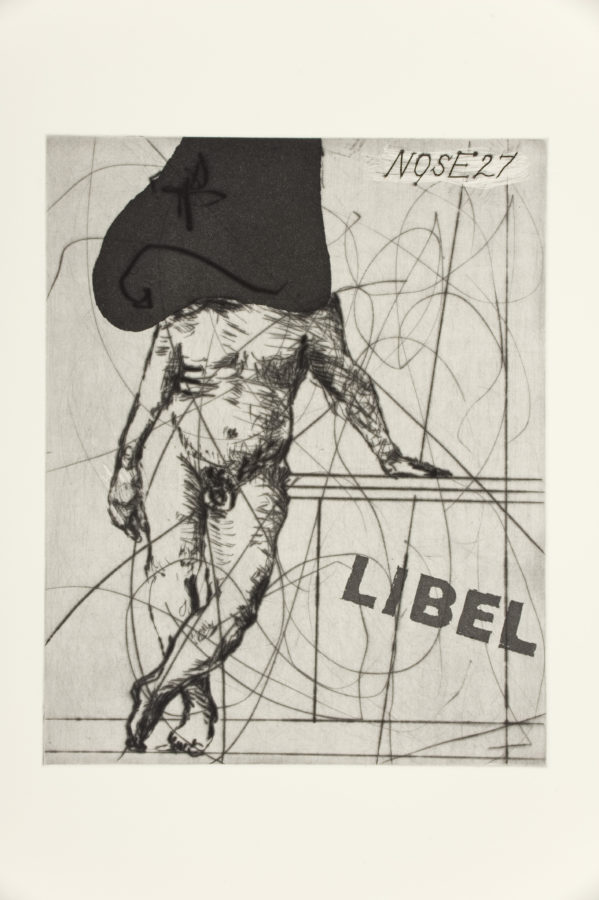 A SYLLOGISM OF PRINTING (libel)
Testing an image through printing.
The drawing on the etching plate is covered in ink. The ink is wiped off, leaving only the ink in the etched lines or tonal areas of the plate. The plate is placed on the bed of the press and then covered with a blank sheet of paper. The plate and paper are covered with felt blankets and then plate, paper and blankets are rolled through the press under high pressure. On the other side of the rollers the blankets are lifted and the paper is peeled back from the plate. The paper now bears a—reversed—image of what was on the plate. The drawing done on the orange copper surface is now seen on the white sheet of paper. Lines that looked similar on the plate now reveal their different depths and densities of ink. At the other side of the press is a version of your drawing that is different to the marks originally made. A separation, as if some other hand had made the print.
There is a logical syllogism in this. You have the proposition that is the inked plate. This goes through the press, producing what is called a proof. The hope is that you are convinced by the proof of the rightness of the proposition. If the proof is not convincing there is something wrong with the proposition, and the burnisher and scraper must get to work to change the plate. This trilogy of Plate, Pressure and Proof continues circling until the proof is brought close to the proposition, or—more usually—makes a presence of its own.
This text by William Kentridge appears alongside the illustration of this print in William Kentridge Nose: Thirty Etchings, edited by Bronwyn Law-Viljoen and published by David Krut Publishing in 2010.
Artist:
---
Title:
Nose 27
---
More about:
---
Year:
---
Artwork Category::
---
Media & Techniques:
---
Edition Size:
50
---
Image Height:
35 cm
---
Image Width:
19.9 cm
---
Sheet Height:
40 cm
---
Sheet Width:
35 cm
---
Framing:
Unframed
---
Artwork Reference:
1394
---