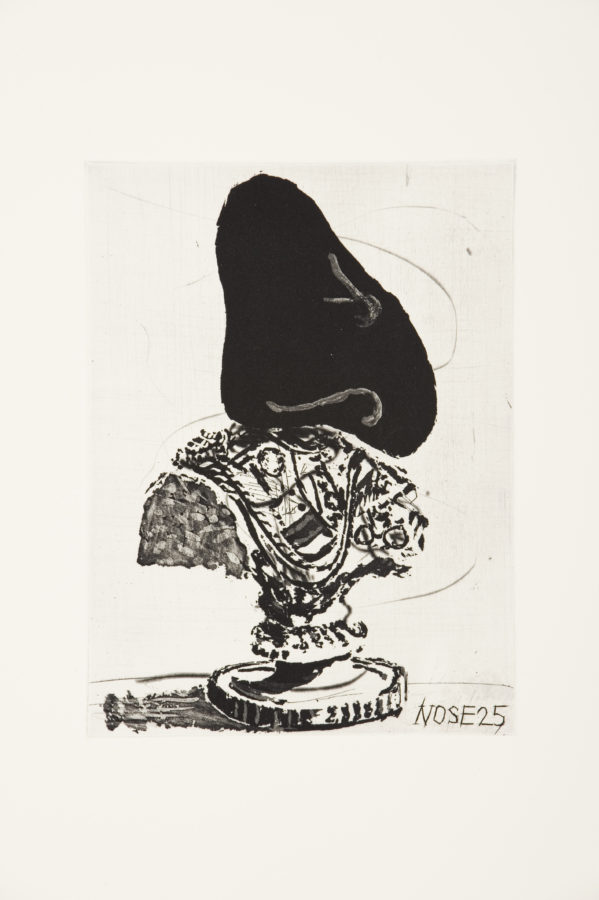 YES, OF COURSE (bust)
Noses feature often in Gogol's writing. He himself had a famous nose. A bust of him in the hermitage shows a very thin, straight, long nose dipping below his upper lip.
The nose in the prints is a generally Ashkenazi Jewish Baltic nose. A self-portrait at one remove. But it has other echoes too. After doing much work on the opera and the prints it became clear that The Nose was a reworking of the figure of Ubu and the drawings of the head of Ubu done by Alfred Jarry. Each time a new body of work is undertaken there is a moment when one realises that you have done it all before. The dark shape of The Nose is also indebted to the hooded heads of Philip Guston—though I am never sure of the relation of Guston to Jarry. But when the similarity was realised, The Nose changed, became more voracious, more vain.
The bust of The Nose is based not on the bust of Gogol but of a Russian grand duke—also sitting on its column in the Hermitage.
This text by William Kentridge appears alongside the illustration of this print in William Kentridge Nose: Thirty Etchings, edited by Bronwyn Law-Viljoen and published by David Krut Publishing in 2010.
Artist:
---
Title:
Nose 25
---
More about:
---
Year:
---
Artwork Category::
---
Media & Techniques:
---
Edition Size:
50
---
Image Height:
35 cm
---
Image Width:
14.9 cm
---
Sheet Height:
40 cm
---
Sheet Width:
35 cm
---
Framing:
Unframed
---
Artwork Reference:
1391
---