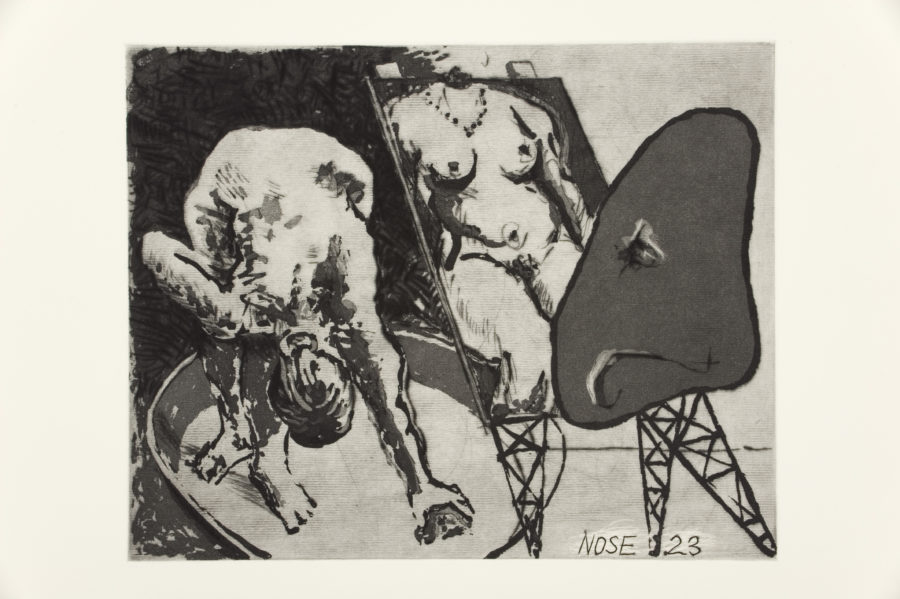 VANITAS (the bath)
Much can and has been written about artists and their mirrors. Four decades ago John Berger gave an elementary lesson in optics. The genre of Western painting that showed a) a naked woman and b) a mirror in which her face was shown, was not about the woman looking at herself—and hence titled 'vanitas'—but about us looking at the woman—at her face in the mirror, but more at her naked body placed somewhere between the viewer and the mirror.
The body in the mirror here is either ours or The Nose's. Or else it is a canvas on an easel and the model in the bath has adjusted her pose. The woman in the bath comes from Degas.
This text by William Kentridge appears alongside the illustration of this print in William Kentridge Nose: Thirty Etchings, edited by Bronwyn Law-Viljoen and published by David Krut Publishing in 2010.
Artist:
---
Title:
Nose 23
---
More about:
---
Year:
---
Artwork Category::
---
Media & Techniques:
---
Edition Size:
50
---
Image Height:
35 cm
---
Image Width:
19.8 cm
---
Sheet Height:
40 cm
---
Sheet Width:
35 cm
---
Framing:
Unframed
---
Artwork Reference:
1390
---