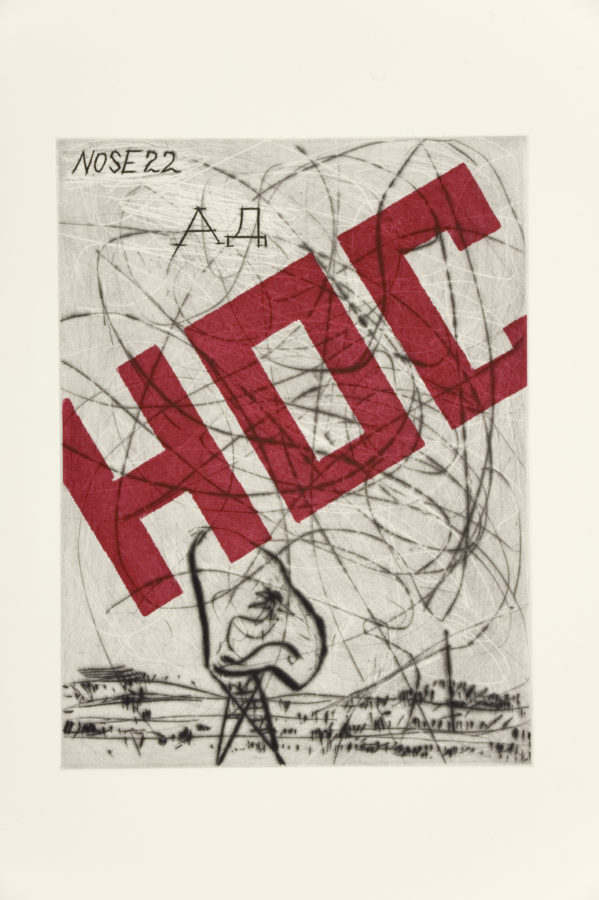 COPPERPLATE
Light up and hard down, was how we were taught to write—a bastardised, simplified calligraphy of 'scribble' writing. This was possible with an HB pencil, and even the dipping pen with which my schooldays started. But it became impossible and ridiculous with the ballpoint pens introduced in my third year of school. The gap between the blotted mess of my ink writing and the impossibly immaculate examples in the copybook was not to be broached. The whole problem disappeared. But even now, though, I am tempted by rows and boxes of dipping pens and their many different nibs displayed in overdone stationery shops. As if I would pick up where this lost skill was abandoned.
But doing this copperplate writing on copper—controlling the burin for a shallower, finer incision on an upstroke and making a steady, deep cut on a down stroke—is even more unreachable.
(Remember that with a drypoint line you damage the copper directly when making a rough scratch. The roughness throws up a burr at the edge of the line, and this burr holds the excess ink that gives a drypoint line its velvety soft richness. An engraved line is done with a burin that cuts a clear groove into the copper throwing up a fine curl of copper in advance of the tip of the tool. It gives a clean, hard-edged line. An etching of course uses acid to damage the copper and gives a line rougher than the engraved line and smoother than the drypoint. The numbers and inscriptions on the plates of this series are engraved. Most of the other lines are drypoint.)
In the absence of the ability to do a proper copperplate, I am reduced to make a drawing of this writing.
This text by William Kentridge appears alongside the illustration of this print in William Kentridge Nose: Thirty Etchings, edited by Bronwyn Law-Viljoen and published by David Krut Publishing in 2010.
Artist:
---
Title:
Nose 22
---
More about:
---
Year:
---
Artwork Category::
---
Media & Techniques:
---
Edition Size:
50
---
Image Height:
35 cm
---
Image Width:
14.8 cm
---
Sheet Height:
40 cm
---
Sheet Width:
35 cm
---
Framing:
Unframed
---
Artwork Reference:
1389
---