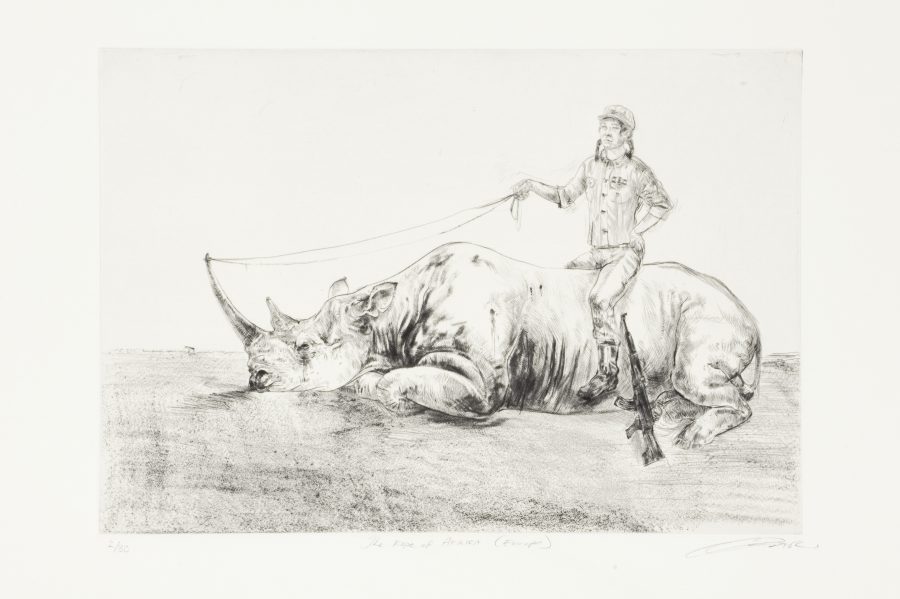 Birth of a Nation comprises of a suite of ten etchings using imagery that is adapted from classical mythology to a South African context of visuality. The series is characterised by a copper matrix drawn using a drypoint needle and a variety of roulette tools to build up an immensely detailed surface. Each of the ten etchings have an edition size of 30. Prints are only available as part of a set.
The Rape of Africa
In this work The Abduction of Europa is transposed into a story about the ravaging of African fauna and flora, called The Rape of Africa. Here, Zeus the bull is a rhino, and rather than carrying Europa off to rape her, he is prone beneath a prosaic huntress whose AK-47 leans against his flank.
"Rape of Africa" (2009) twists the myth of the rape of Europa, depicting a pig-tailed but stone-faced Europa straddling a rhinoceros while an AK-47 rests near her polished hunting boot. The image and its title could not be more blatant in their reference to Europe's ongoing exploitation of Africa's people and resources, but as always Victor leaves disturbing ambiguities. Rather than depicting a purely evil oppressor, she chooses to place Europe in the body of a battered girl who is herself the victim of rape. (from Art South Africa review by Maxwell Heller, 11 July 2012).
Artist:
---
Title:
The Rape of Africa - Only available as part of a set (ed. of 30)
---
More about:
---
Year:
---
Artwork Category::
---
Media & Techniques:
---
Edition Size:
30 ONLY AVAILABLE AS PART BIRTH OF A NATION SET
---
Image Height:
47.4 cm
---
Image Width:
36.5 cm
---
Sheet Height:
37.2 cm
---
Sheet Width:
47.4 cm
---
Availability:
Available
---
Framing:
Unframed
---
Artwork Reference:
1337
---