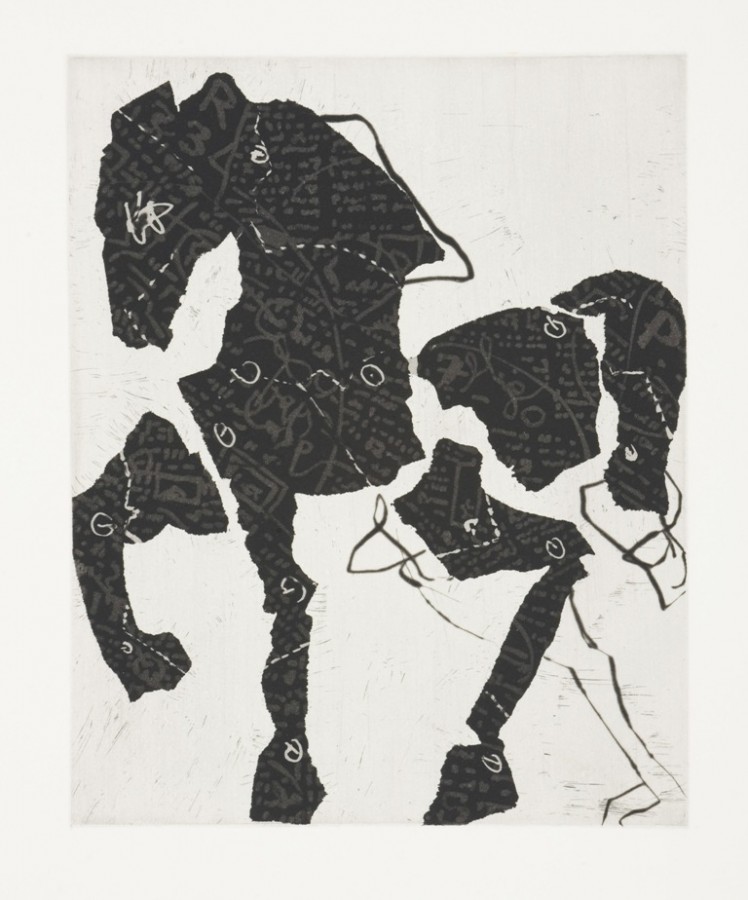 This etching is one of a pair of works made by William Kentridge, in collaboration with the David Krut Workshop, to mark the occasion of the publication of a comprehensive book about the Handspring Puppet Company (HPC) and their work by David Krut Publishing in 2009. HPC is a world-famous puppetry group with which Kentridge has collaborated many times over the years (as director, artist, designer).
In his narration of William Kentridge CD-ROM (1997), the first major publication on the work of William Kentridge, the artist explains the origins of his collaboration with The Handspring Puppet Company:
"For many years I had seen the work that the Handspring Puppet Company had made with their puppets and they had seen the animated films that I had made.  And at a certain point we said let's see what happens if you combine the animation and the puppetry – can they talk to each other?  What we were trying to do in these productions was to see whether – using the range of techniques from actors visible on stage, to puppets visible with actors, to projected images on a screen – there was a way of telling a story, that was different simply from a film; different simply from a puppet production; different simply from actors; and to find ways of saying and showing things, not just in a new way, but in a deeper way, a richer way, with layers of meaning which one couldn't have in a traditional theatre or with a simple film."
The other work making up the pair is titled, Artist & Reflected Model.
Artist:
---
Title:
Deconstructed Horse
---
More about:
---
Year:
---
Artwork Category::
---
Media & Techniques:
---
Edition Size:
40
---
Image Height:
31 cm
---
Image Width:
19.8 cm
---
Sheet Height:
36 cm
---
Sheet Width:
31 cm
---
Availability:
Available
---
Framing:
Unframed
---
Artwork Reference:
1260
---