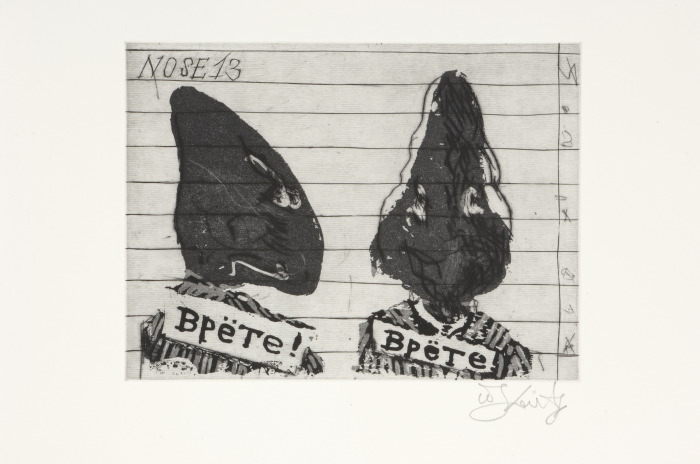 OFFICIAL POLICE PORTRAIT
Shostakovich wrote his opera, The Nose, based on Gogol's story, in 1928. Shostakovich was twenty-two years old, just out of the Leningrad Conservatory of Music. (Lenin had died in 1924 and the city's name had changed.). All music then seemed possible. References to Tchaikovsky, American jazz, piano music for silent movies and Alban Berg's Wozzeck are all in the opera, which is suffused with a wild openness and an energy of possibility. It did not meet with official approval and was stopped after some performances. Later Shostakovich's music was denounced as 'muddle, not music' by the newspaper, Pravda. Shostakovich kept a packed suitcase ready, expecting a 3 am knock on the door from the secret police. He was never arrested, but many other artists, poets and musicians were, before, during and after the Great Terror of 1937 and 1938. Vsevolod Meyerhold, the great theatrical director and leader of the anti-naturalistic school of Russian theatre, was arrested in 1939, imprisoned, tortured and executed, and shot in 1940. Allegiance to or dissent from party orthodoxy were equally possible routes to the Lubyanka prison. The Nose's mug shot can give no indication as to his political leanings, or to his innocence or guilt of any charges or critiques. But the sign around his neck is LIAR—or at any rate ' you are lying'.
This text by William Kentridge appears alongside the illustration of this print in William Kentridge Nose: Thirty Etchings, edited by Bronwyn Law-Viljoen and published by David Krut Publishing in 2010.
Artist:
---
Title:
Nose 13
---
More about:
---
Year:
---
Artwork Category::
---
Media & Techniques:
---
Edition Size:
50
---
Image Height:
40 cm
---
Image Width:
19.9 cm
---
Sheet Height:
35 cm
---
Sheet Width:
40 cm
---
Framing:
Unframed
---
Artwork Reference:
1123
---