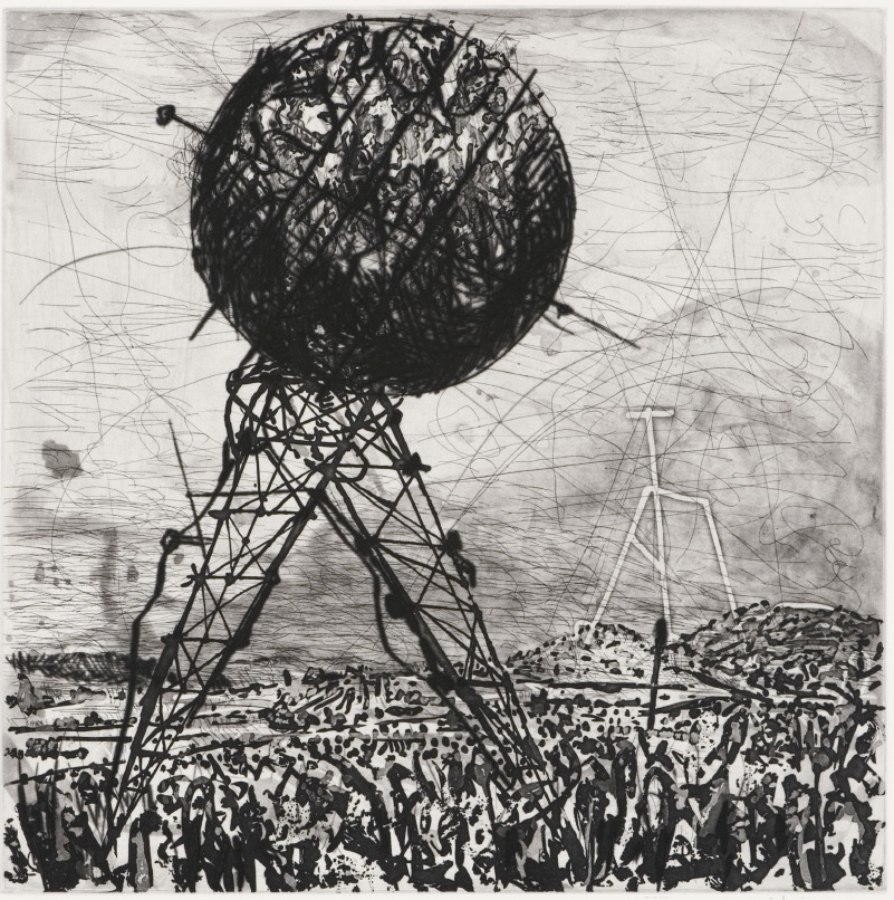 *THE PRINTS IN THE WEST COAST SERIES ARE ONLY AVAILABLE AS A SET
In 2009, two of South Africa's rarest types of wines were being made from vines, planted around 1900, to form a collection of six wines made by Eben Sadie of Sadie Family Wines, a small, prestigious winery based in the southern Swartland, inland from Elands Bay on the Cape West Coast of South Africa. The collection was to be called the Ouwingerdreeks (Old Vine Series), the labels for which were created by William Kentridge. The six labels are a combination of inkwash drawings and collage. Alongside these drawings Kentridge created a small series of five etchings that build upon and modify the imagery of the labels. These etchings were originated by the artist in collaboration with Master Printer Jillian Ross and David Krut Workshop (DKW), and editioned by Ross and her assistants.
The images of the prints were inspired by the visual and historical landscape of the Swartland region, and other valleys far up the West Coast in the Olifants Rivier region, where the vines were located. The prints were created through the full utilization of techniques available to a printmaker. Delicate drypoint lines swirl through washes and splashes of pale grey spitbite aquatint, combined with the deep and solid marks of sugarlift aquatint and hardground etched lines. Handpainting, burnishing and attached fragile chine collé resolve the prints.
The imagery of the prints will be familiar to followers of Kentridge's work. The humanized objects proceeding across the landscape are reminiscent of works such as Portage (2000) and those of L'Insorabile Avanzata (2007), while reimagining these object-figures within the landscape of the Swartland and the tools of wine-making: the secateurs that cut the fattened bunches of grapes from the vines, and the windmill that pumps life-giving water to the maturing vines. Alongside these two figures there is a third: the world marching through the landscape on electric pylon legs. The two remaining images in the series re-imagine images that have appeared with Kentridge's oeuvre previously: a South African landscape rich in connotations of colonization and embodied history, and a nude figure, gazed upon by the viewer as she undress within the encircling arms of an imposing black chair.
Artist:
---
Title:
Olifantsriviere
---
More about:
---
Year:
---
Artwork Category::
---
Media & Techniques:
---
Edition Size:
30
---
Image Height:
30 cm
---
Image Width:
30 cm
---
Sheet Height:
45.6 cm
---
Sheet Width:
45.6 cm
---
Availability:
Available
---
Framing:
Unframed
---
Artwork Reference:
1101
---