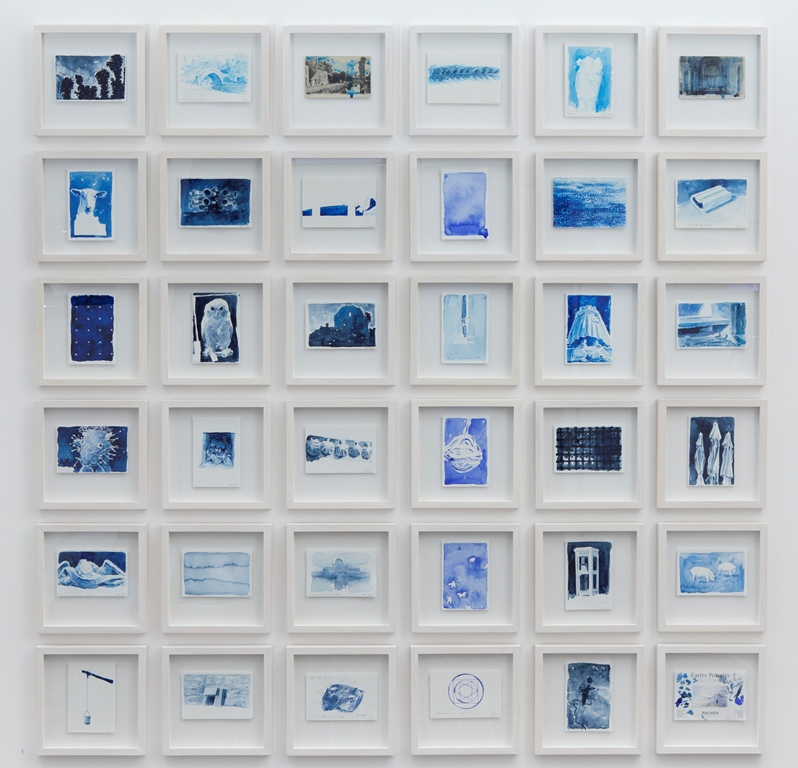 The 36 watercolour paintings that make up this installation were completed during MacKenny's 700km walk along the French section of ancient pilgrimage route commonly known as the Camino.
Carrying with her the prayers and dedications of other environmentally concerned artists and individuals, this 'meditation on the move' is an embodiment of belief, calling into play the physical, mental and spiritual in a process that MacKenny sees as part of an holistic artistic practice. While she sees this particular perambulation as an artistic act in its own right she also responded to artistic tradition by carrying with her a limited palette of blue watercolours (a reference to cosmonaut Yuri Gagarin's statement that from space  "…the earth looks small and blue"). Making an image a day on a postcard size piece of paper with the intention of sending these back to South Africa MacKenny gestures both to the history of travellers recording their journeys in the days before the camera (watercolour is lightweight and dries quickly) as well as responding directly to Susan Hiller's idea that creative work is a form of "letters home".
The watercolours are painted onto Arches and Etival 100% cotton watercolour paper.
For images of the individual works, click here.
Artist:
---
Title:
Waymarker
---
More about:
---
Year:
---
Artwork Category::
---
Media & Techniques:
---
Sheet Height:
136 cm
---
Sheet Width:
136 cm
---
Availability:
Not Currently Available
---
Framing:
Unframed
---