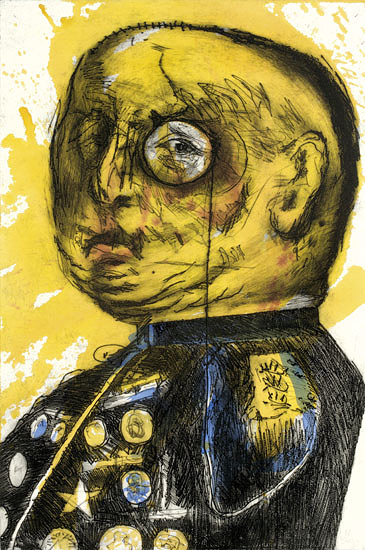 In May 1992 David Krut, who was based in London at the time, visited Johannesburg and he and William Kentridge met casually at the opening of an exhibition at The Market Theatre Gallery. Kentridge was due to visit London for his first exhibition of drawings and prints at the Vanessa Devereaux Gallery in the Portobello Road area of London. Krut had developed a working relationship with master printer Jack Shirreff dating back to 1981 and he invited Kentridge to visit Shirreff at his 107 Workshop in Wiltshire to explore making very large copper plates, which would allow the artist to create editioned work on a scale that was not available to him in South Africa.
Kentridge visited his parents, who lived in London, quite often and that enabled him to make regular visits to Shirreff's workshop and create a substantial body of large etchings which combined various intaglio mediums as well as hand painting.
These etchings, including Head, Blue Head, General, General (Black and White) and the series of Iris prints, were all originated with and editioned by Shirreff, assisted by Andrew Smith, at the 107 Workshop between 1992 and 1998.
In the making of the General prints, the coloured version was hand-painted by the artist before the plate was printed onto the sheet. The variation in gesture and, at times, the nuances of the way the pigments were laid onto the sheet indicate an intuitive response to colour that is seldom seen in Kentridge's work.
Text : Jacqueline Flint, 2020
Artist:
---
Title:
General
---
More about:
---
Year:
---
Artwork Category::
---
Media & Techniques:
---
Printer:
---
Edition Size:
35
---
Image Height:
120 cm
---
Image Width:
80 cm
---
Availability:
Not Currently Available
---
Framing:
Unframed
---