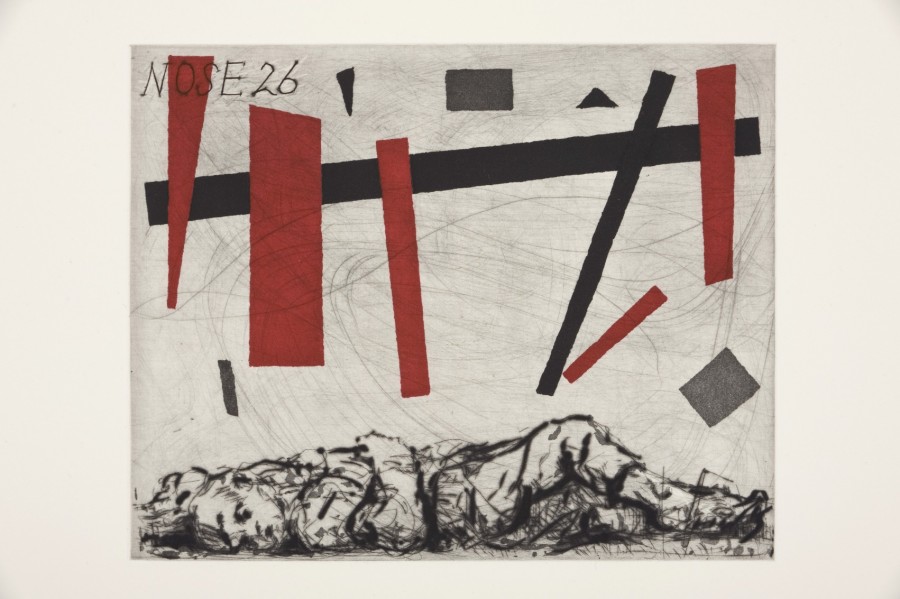 WHERE IS THE RED WEDGE?
There was a brief period before and after the October Revolution in which the reinventions of graphic forms seemed to coincide with a reinvention of social and political structures. But as early as 1918, Lenin had asked for 'reliable anti-futurists' to be found. In the end the great figures of El Lissitzky and Malevich were reduced to being designers of shoes and painters of plates.
(The red and black angular elements are based on Supremus No. 50 by Kazimir Malevich from 1915.)
This text by William Kentridge appears alongside the illustration of this print in William Kentridge Nose: Thirty Etchings, edited by Bronwyn Law-Viljoen and published by David Krut Publishing in 2010.
Artist:
---
Title:
Nose 26
---
More about:
---
Year:
---
Artwork Category::
---
Media & Techniques:
---
Edition Size:
50
---
Sheet Height:
35 cm
---
Sheet Width:
40 cm
---
Availability:
Not Currently Available
---
Framing:
Unframed
---