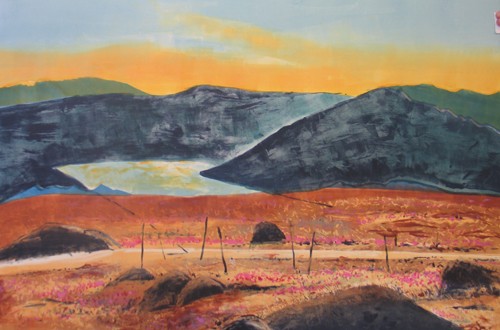 Collaboration History
Avhashoni Mainganye worked on the opportunity, while at David Krut Projects in 2004 that started the collaboration, to complete some etching plates that he started a few years earlier. One work entitled Daughters of the Earth is linked to a dominant matriarchal presence in many black cultures – a reflection on the archaic mother spirit which intrigues Mainganye.
In 2006, Mainganye produced two etchings while at David Krut Workshop dedicated to women. Both works have now been editioned in rich sepia colours so as to reinforce the connection with the earth.
Biography
Avhashoni Mainganye was born 1957, in Phiphidi, Venda. He now lives with his family in Thohoyandou.
In 1981, Avhashoni enrolled at the Rorke's Drift Art School in Kwa-Zulu Natal and completed an arts degree in two years. In 1983 he returned to Venda and had a two-person-exhibition at the converted ladies bar at the Thohoyandou Hotel with Nthambeleni. Back at home he became a local cultural activist to revive the energy of the artists in Venda.
In 1985, he came to Johannesburg and enrolled at Funda Art Centre in Soweto, which was initiated by Matsemela Manaka and its first director Steven Sack. He took part in the Ussalep/Thuphelo Workshops which were an interaction between local and international artists.
Mainganye, although he does not confess to being a poet, uses the microcosm of his immediate surroundings to make macrocosmic comments, most poetically, on wider social issues. One specific influence was Ingwabele Madingwane; his poem Mother Spirit was a great inspiration for Mainganye.
Mainganye finds the dominant matriarchal presence in many black cultures intriguing. In his opinion, women are more connected with the earth due to their creativity and life-giving potential.
His aim is to create art awareness, initiate arts education in Venda, and unveil other artists.