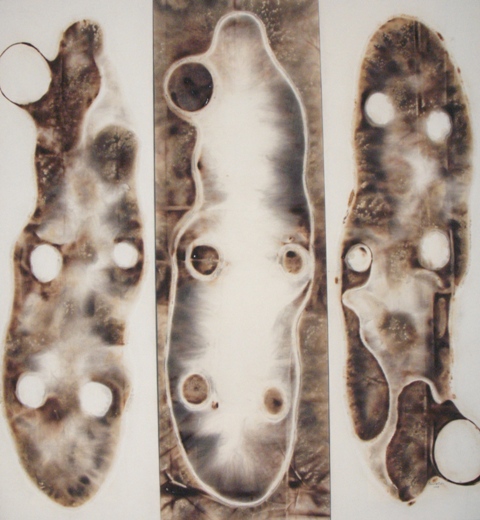 Zulu studied art at the Rorkes Drift Art School, Technikon Natal, and the University of the Witwatersrand and has exhibited his work since the early nineties. In July 2005 he had his first international solo show at the October Gallery, London. Zulu has exhibited extensively in South Africa, as well as in the United States, Germany, France, Sweden, Scotland and the Seychelles. He has received many international awards and is represented in public, corporate and private collections around the world, including the South African National Gallery.
Zulu's work gives expression to his wide-ranging interests in biology, botany, history and philosophy, and he explores the relationship between physical and social conditions. His innovative use of fire on canvas has resulted in a body of work that stands up to rigorous interpretation but conveys a profound appreciation of patterns and harmony.
Throughout 2011, Sandile Zulu and Sao Paolo artist, Henrique Oliveira, will have work on display at the Smithsonian's National Museum of African Art. David Krut Publishing has worked with Zulu for many years and he is the subject of TAXI-012 Sandile Zulu, from the TAXI Art Book series.