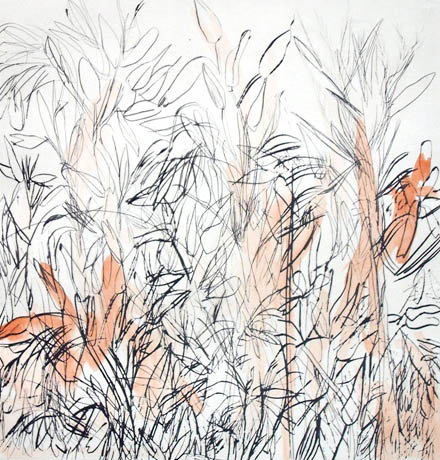 Bronwen Findlay studied art at Natal Technicon, Durban and the University of Natal, Pietermaritzburg BA (1980), HED(1981), BA HONS(1989 Cum Laude) MAFA (1994 Cum Laude). Bronwen taught art at Durban High School (1982 – 1992), and lectured at the University of Durban Westville (1993-2000), as well as at University of Natal, Natal Technikon in addition to the University of Witwatersrand and University of Johannesburg.
As a painter who takes great pleasure from ornamental styles, Findlay's work is intensely colourful and intricately detailed. Working more commonly with softground and monotype printing techniques, Findlay produces prints that are painterly in style and vibrantly expressive.
The subjects of Bronwen's works are inspired by her everyday life; often in her paintings these commonplace objects are incorporated into the work and juxtaposed with seemingly unrelated objects. She often chooses subject matter that is easily dismissed as feminine or domestic. Since her early works, she has made frequent use or reference to fabrics and textiles; in one instance imprinting the texture of a blanket into the softground.
Findlay completed a series of Monotypes at DKW, in 2011. She has continued to experiment with textures and colours, creating images that are complex and layered.