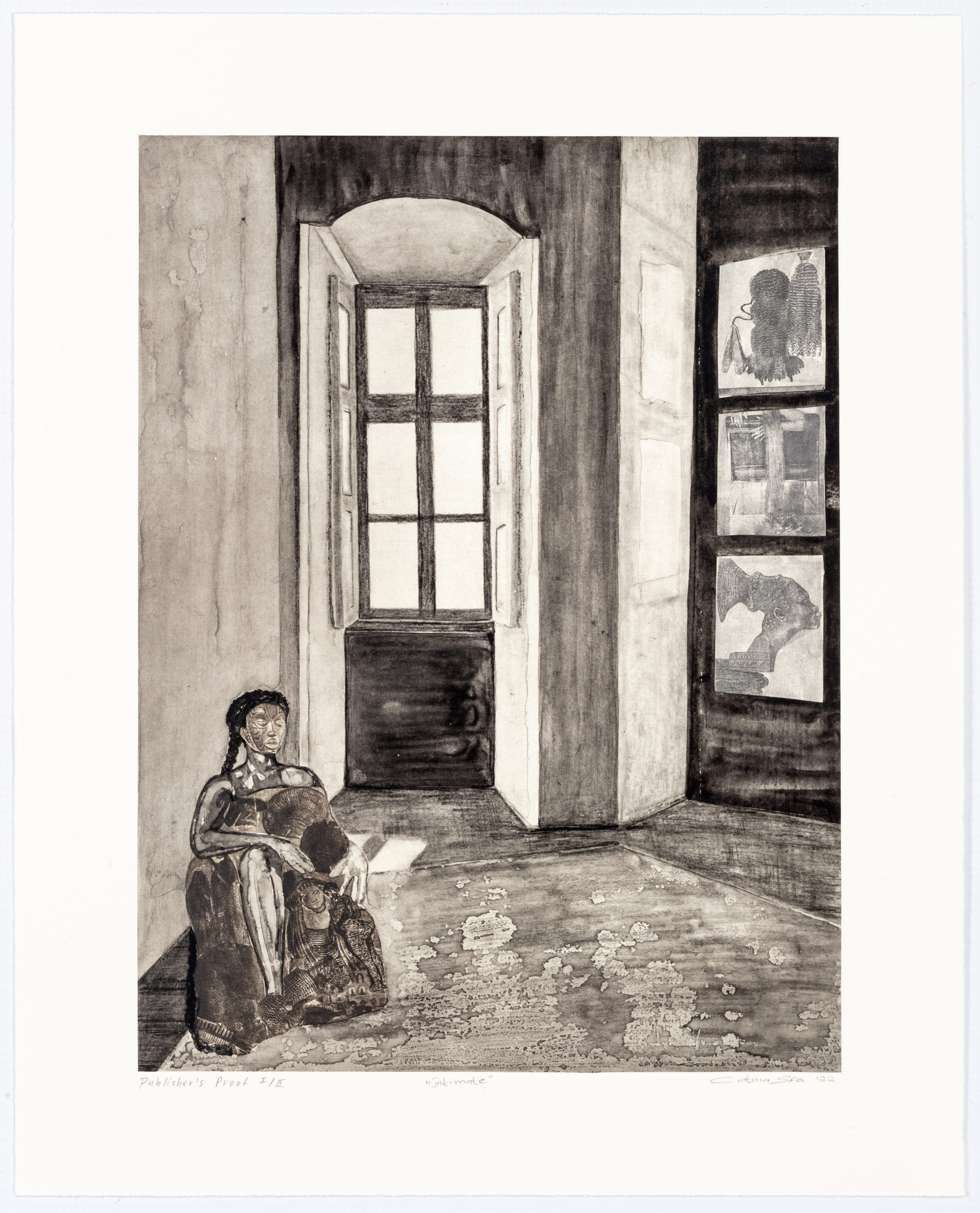 "I was born in the DRC however, the visual references and influences in my art are rooted in my adopted home of South Africa, where I grew up and move places then trained as an artist at the Artist Proof Studio in Johannesburg. The focus at that institution is on print-making, however, I became preoccupied with painting and collage.  These are the mediums that have come to define my practice. They serve in my dual interest in engaging with the history of western art and popular culture thus delving into African art.
The focus of my art is on the representation of Black women. Through their depiction, I engage in different personas, emotions, or states of mind. Typically, I juxtapose several different women in my paintings, thereby highlighting the complexities of female identity, the stream of varying consciousnesses that occupy a single space, identity or moment in time. As such my paintings operate as multi-perspectival portraits while the spaces allow me to create open conversations and interrogate the notions of beauty.
This polyphonic character is amplified through the introduction of additional female subjects via the inclusion of painted or collaged artworks hanging on the walls of the rooms occupied by my subjects. These images of women, typically sourced from popular culture or the history of western painting, serve as a reminder of how the structures of the female gender and beauty are reinforced and bear down on my subjects. In this way I am in conversation with the tradition of western painting, challenging the absence of black female subjects and the representation of women at the hands of male artists.
At times I reference well-known artworks or those produced by my South African contemporaries. They are intended as tributes to their work, and playful acts of recontextualisation. This referential element is also driven by my own desires, to plot spaces beyond my reach or that of my viewers. This is further complemented by furniture and decorative pieces in the interiors that evoke aspirational lifestyles advanced by decor magazines."
Text from Latitudes Online