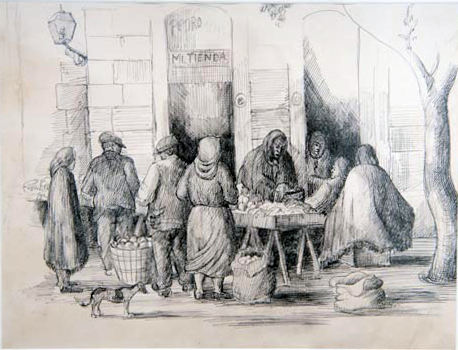 François Krige (1913 – 1994) is renowned in South Africa as a painter who stuck to the Post-Impressionist style which formed early in his career, influenced by his travels and studies in Europe and his involvement with the New Group. This coterie of artists, formed in the 1930s in South Africa, had a significant impact on the local art scene, and included many other well-known painters, such as Walter Batiss, Frieda Lock and Alexis Preller, whose time abroad had also heavily influenced their work. However, one area of Krige's oeuvre that is as yet unexplored is the large body of work that he produced on paper – drawings in charcoal, pencil and pen; watercolour, oil and gouache paintings on paper; and many accomplished etchings.
Krige was born into a culturally sophisticated family in the Little Karoo. He decided to pursue a career as an artist, beginning his studies in 1927 at the Michaelis School of Fine Art at the University of Cape Town, and continuing as an observer and student in Spain, Belgium, Italy, Germany, and Austria. In 1936, he returned to South Africa, settling for a short time in Johannesburg before leaving again in 1941 for Libya, Egypt, Syria and Italy as an Allied Union of Defense Forces' Wartime Artist during the Second World War. 1944 saw his return to South Africa, and Cape Town, and from 1946 until 1966, Krige undertook a number of study trips to Lesotho, Botswana, Namibia and the West Coast. In 1967 he moved to Montagu, where he would remain until his death in 1994, and these years saw him making a valuable contribution to South African painting in the form of still-life, landscape and portraiture. Throughout his life and travels, however, his drawings and paintings on paper remained a vital part of his practice, allowing him to capture the visual observations he was making, as well as hone his skill as a sensitive draughtsman.
To mark the centenary of the artist's birth, David Krut Projects presents an exhibition of his work curated by Justin Fox, nephew of the artist and authority on his life and art. In addition to self-portraits spanning Krige's career, the exhibition includes a selection of significant works on paper over six decades. These offer a counterpoint to the narrative of Krige's more famous paintings and provide an intimate window on his artistic development.