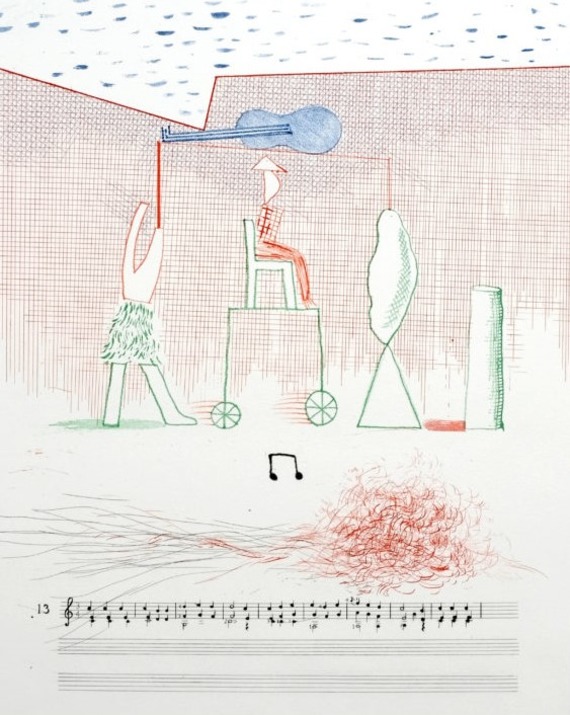 British painter, draughtsman, printmaker, photographer, and designer. After a brilliant prize-winning career as a student at the Royal College of Art, Hockney had achieved international success by the time he was in his mid-20s, and has since consolidated his position as by far the best-known British artist of his generation. His phenomenal success has been based not only on the flair, wit, and versatility of his work, but also on his colorful personality, which has made him a recognizable figure even to people not particularly interested in art.
His early paintings gained him a reputation of leading Pop Artist, although he himself rejected the label. In the late 1960s he turned to a weightier, more traditionally representational manner, in which he has painted some striking portraits. He has spent much of his time in the USA, and the Californian swimming pool has been one of his favorite themes. Often his work has a strong homo-erotic content.
Hockney is a brilliant draughtsman and has been as outstanding as a graphic artist as he has as a painter, his work in this field including etched illustrations to Cavafy's Poems and Six Fairy Tales of the Brothers Grimm. In the 1970s he came to the fore also as a stage designer, notably with his set and costume designs for Stravinsky's The Rake's Progress and Mozart's The Magic Flute produced at Glyndebourne in 1975 and 1978 respectively. The broader style demanded by stage design is reflected in his most recent easel paintings. In the 1980's he has experimented extensively with photography, producing, for example, photographic collages and prints created on photocopiers.
Hockney's early work made superb use of the popular magazine-style images on which much of Pop Art is based. However, when Hockney moved to California in the 1960s, he responded with such artistic depth to the sea, sun, sky, young men, and luxury that his art took on a wholly new, increasingly naturalistic dimension.
David Krut Projects featured prints by Hockney at the Johannesburg Art Fair in March 2008.