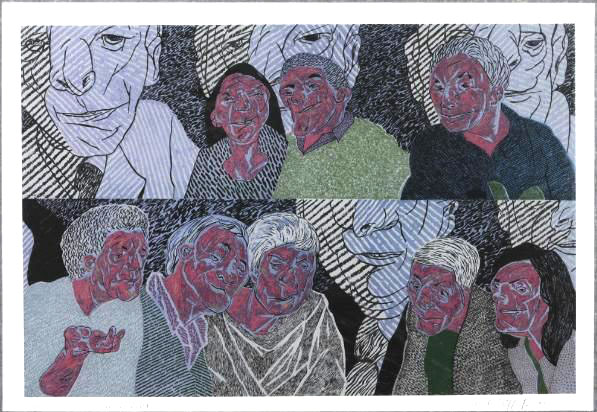 Collaboration History
Paul Stopforth's first collaboration with David Krut Projects (DKP) came in 2004 when DKP New York exhibited the results of Stopforth's residency on Robben Island. Stopforth most recently collaborated with David Krut Workshop (DKW) in 2009. In 2011, he was part of the group exhibition Imaginary Landscapes.
He is the subject of one of David Krut Publishing's TAXI Art Books – a series of monographs dedicated to some of South Africa's most notable artists.
Biography
Paul Stopforth, born in Johannesburg in 1945, studied at the Johannesburg College of Art and was awarded the British Council Scholarship to attend the Royal College of Art in London. Since 1971, he has exhibited in solo and group shows in South Africa, the US and Europe. He has served as curator and juror for a number of insti­tutions and competitions, and, in 2004, he delivered the Ruth First Memorial Lecture at Brandeis University.
The multidisciplinary artist works in sculpture, drawing, painting, and printmaking. He was one of the first visual artists to confront the injus­tices of the apartheid system. Today, he continues to make art that is incisive in its social commentary and sophisticated in its conception and production.
Stopforth left South Africa in the 1980s after he staged a ground-breaking exhibition at the Market Theatre Gallery and ran into trouble with the apartheid government over his drawings based on forensic photographs of Black Consciousness leader Steve Biko's badly battered body. These works are seen to evidence a unique kind of witnessing and testimony for apartheid-era interrogation and torture.
Stopforth now lives in the US, but regularly returns to South Africa to make work that engages with the physical and psychological landscapes of home.
During a residency on Rob­ben Island in 2004, he created a series of paintings which reflect on memo­ries contained in objects such as old blanket pins, bowls and bars of soap, which were used by the prisoners incarcerated on the Island before 1994. The series stands as a watershed moment for its subject matter and for Stopforth's trajectory as an artist.