Text by Christa Swanepoel
For the month of April 2022, the checkerboard room of the David Krut Projects Blue House is home to Baby Yellow, a body of work which has been developing over the span of 10 years. This body of work is a very personal project for artist Ryan Arenson, who admits that the journey he has taken with Baby Yellow over the last decade has been quite an emotional one. This exhibition includes work in various mediums that Arenson has created over the years, as well as new works created in collaboration with the David Krut Workshop (DKP). Arenson's first collaboration with DKW was in April 2010 with the exhibition Resurrection.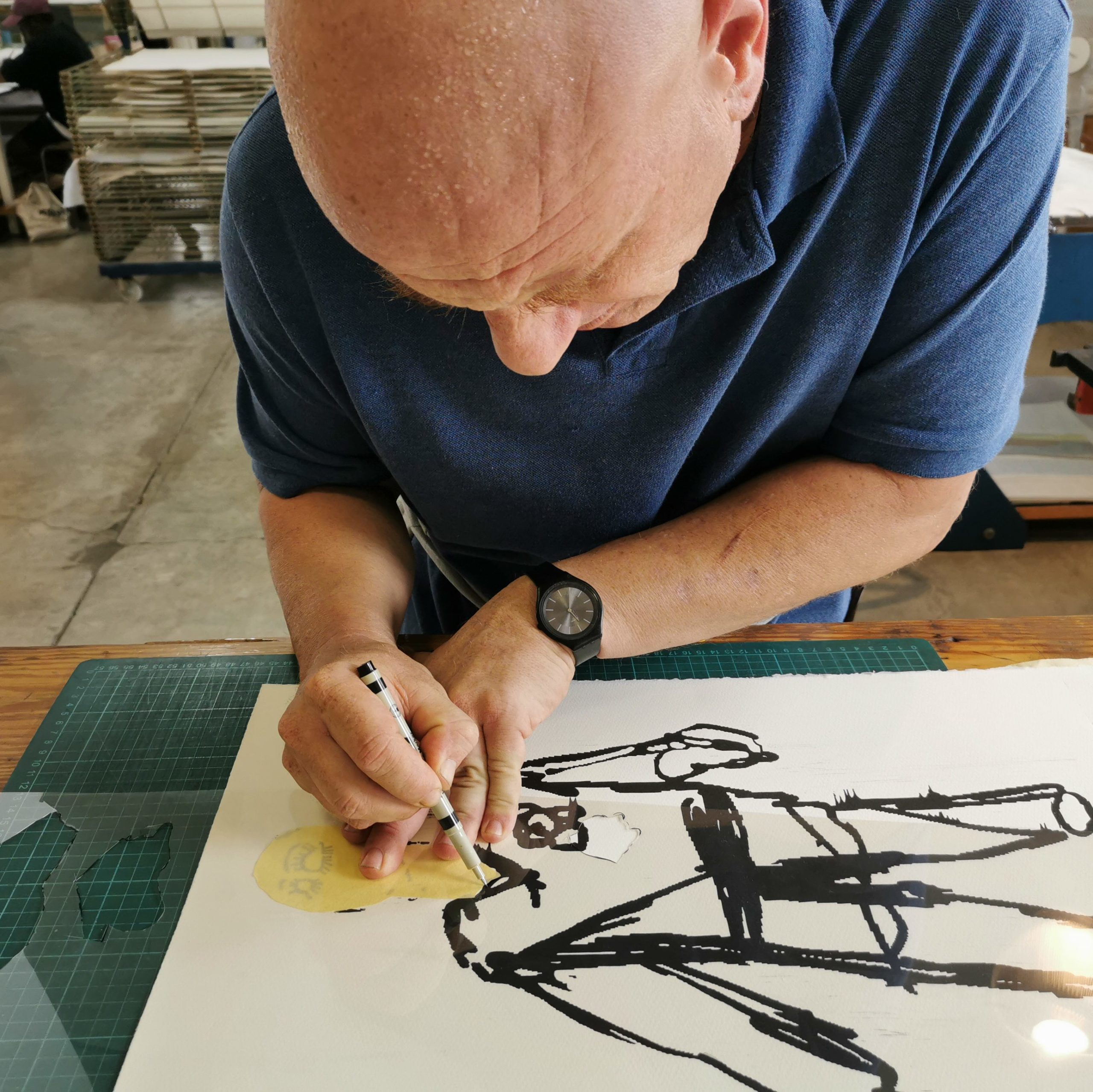 Baby Yellow came to be when a psychoanalyst suggested to Arenson that he must draw like a six-year-old child in response to Arenson's frustration at his own perceived lack of drawing skill. Arenson was encouraged to accept and explore the pain, anger and frustration of a six-year-old and translate those feelings into artistic expression. This method of artistic expression allowed Arenson to explore thoughts and feelings deep inside of himself, many of which were often beyond the realms of language and memory.
Arenson started drawing on his iPad using an app called Brusher, which is the same app used by artist David Hockey. Being able to draw with his finger directly on the screen felt immediate and direct for him, and he soon found the process to be very soothing and cathartic.

Baby Yellow and the Poof Poof Bras 1, 2022
Edition Variation of 3
Linocut and coloured pencil
28 x 77 cm
"Throughout my stay in New York, I continued to draw on my iPad. I even took my iPad to figure drawing classes in Soho! The drawings were progressing in a curious way. A character had started to develop. He was a little boy wearing a karate suit. He was about 6 years old. His karate suit was two colors. Half baby yellow and half baby blue. Before leaving for New York, I had painted a small work. All I knew then was the colour that I wanted to use. And so, I painted a baby yellow rectangle on canvas. I found it curious that the color baby yellow was now coming up in a different context in the iPad drawings." – Ryan Arenson in writing about Baby Yellow, 2022.
This canvas painting in baby yellow, the very first step incarnation of what will be the main character in this body of work, can be seen in the exhibition at the checkerboard room of the Blue House.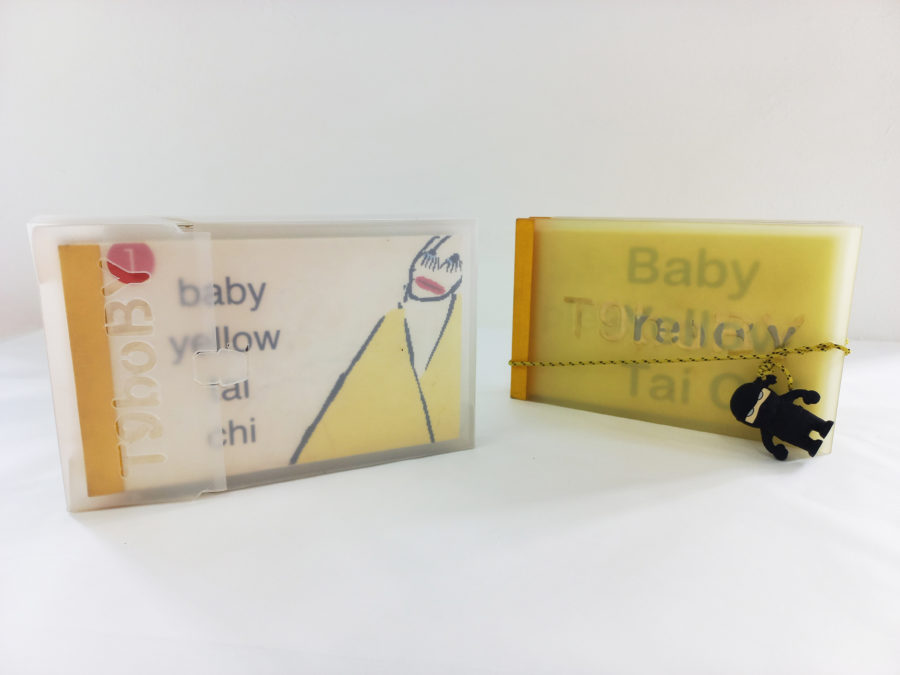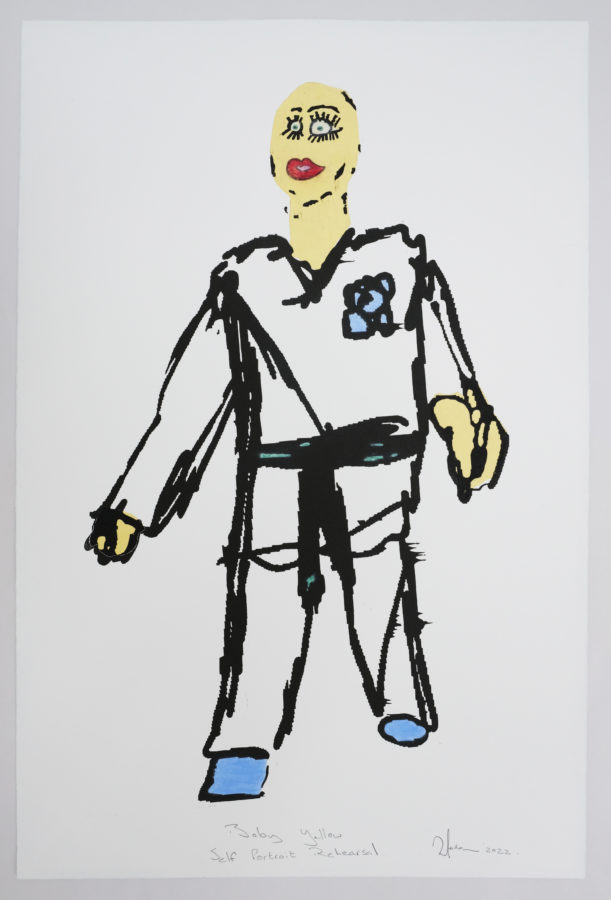 The Nine Books of Baby Yellow, 2010
Editioned artist booksInkjet print on Awagami paper, hand-bound, in archival sleeves
Approximately 12 x 18.5 x 3 cm
Baby Yellow Self Portriat Rehearsal, 2022
Linocut with chine colle and coloured pencil
60 x 39.8 cm
"The drawings had already started creating their own narrative. As I drew, the drawing 'progressed' both technically and conceptually. Technically I was using the app Brushes to its maximum capacity. Through having the ability to zoom into the drawings created using Brushes, three thousand times, I was literally 'colouring' in or painting with the actual pixels that created the digital image, and this allowed me to explore mush detail and complexity in the drawing I did. Conceptually, the drawings were also maturing. I stared to see and 'understand' the narrative that the drawings were making. The little boy, and the drawings in general, started to remind me 'of those drawings done by a six-year-old boy' that my psychoanalyst friend suggested I make. The colors too, I was starting to use more and more for aesthetic and symbolic purposes, and I was pleased that the colour 'baby yellow' was starting to dominate the work, as it was the original color I chose to explore even before I began working on the iPad.
Perhaps it was at this point that I realized I could name the little boy in the paintings Baby Yellow. The dominant colour of the work being baby yellow, and the little boy who was not much older than a baby, who was dressed predominantly in the colour baby yellow, seemed to 'want to have' his own name and I felt Baby Yellow fitted him perfectly."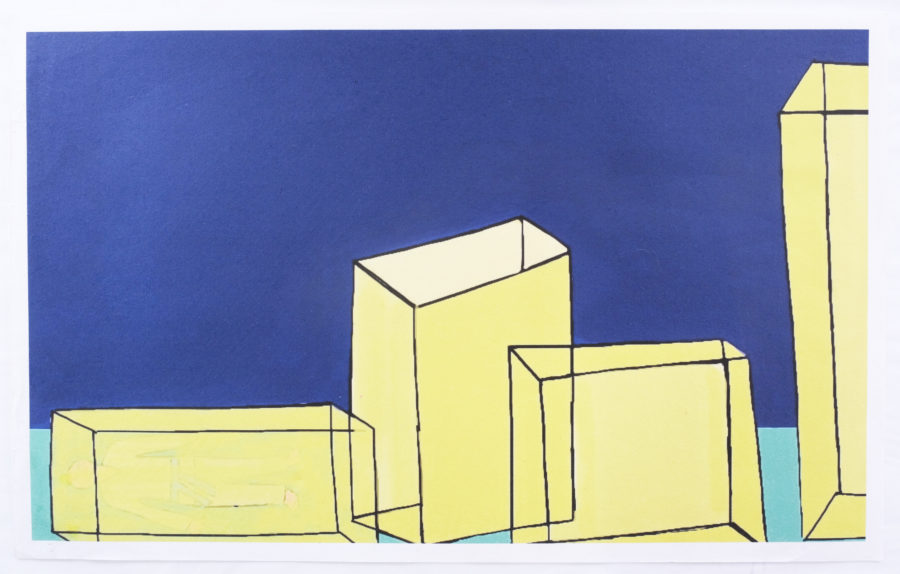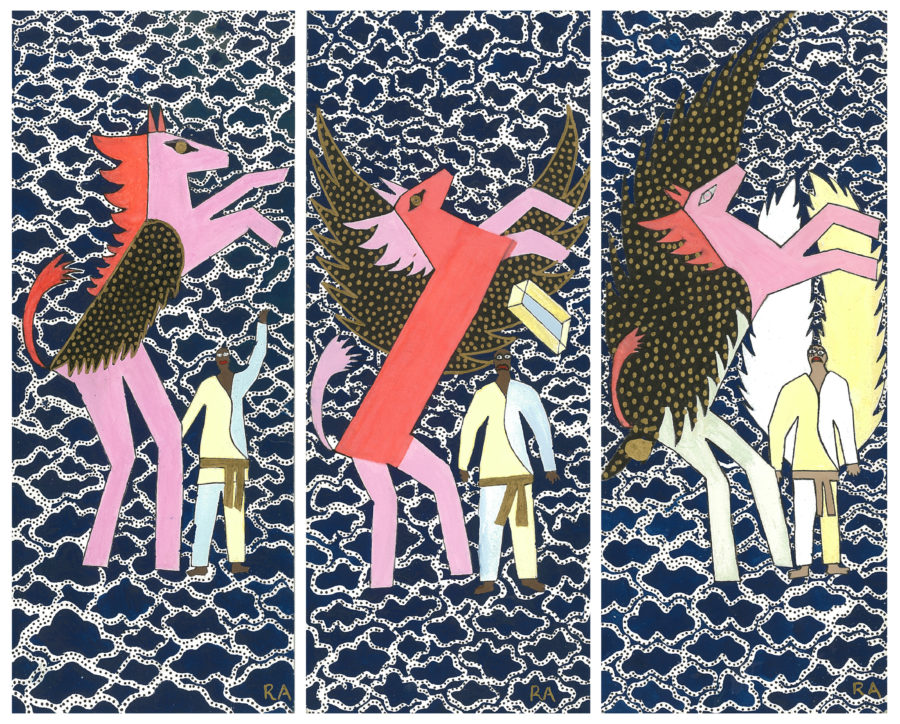 Little boxes, 2010
Inkjet print on Awagami paper
47.9 x 30 cm
Clouds series, 2021
Ink and gouache on paper
Approximately 10 x 25 cm each
And so, the character Baby Yellow came to be. Baby Yellow is a 6-year-old boy, an alter-ego whose life and inner feelings have been documented over nine books, detailing his escapades in drawing, writing, practicing t'ai chi, making music, playing in a band, and enacting wild fantasies of the adult kind. As the books develop, veering into wild territory bordering on the absurd, one is struck by the echoes of inner turmoil and deep emotion present in the stories.
The artist books of Baby Yellow were published as ebooks, but were also made into physical artist books, or art objects. The pages were printed with an inkjet printer onto Awagami paper and handbound. They also form part of the exhibition, along with a ninja-shaped flash drive containing their digital counterparts.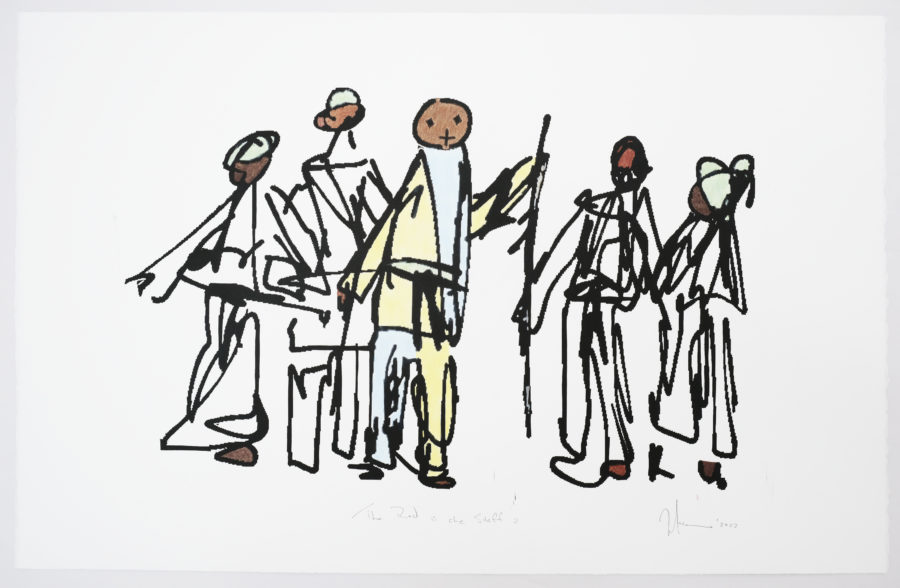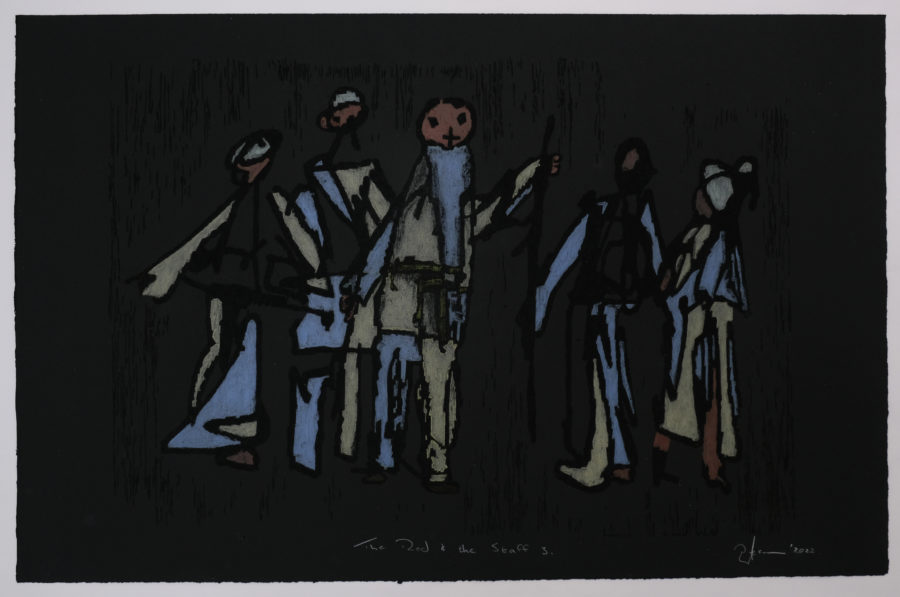 The Rod and the Staff 2, 2022
Linocut and coloured pencil
49.5 x 77 cm
The Rod and the Staff 3, 2022
Linocut and coloured pencil
49.5 x 77 cm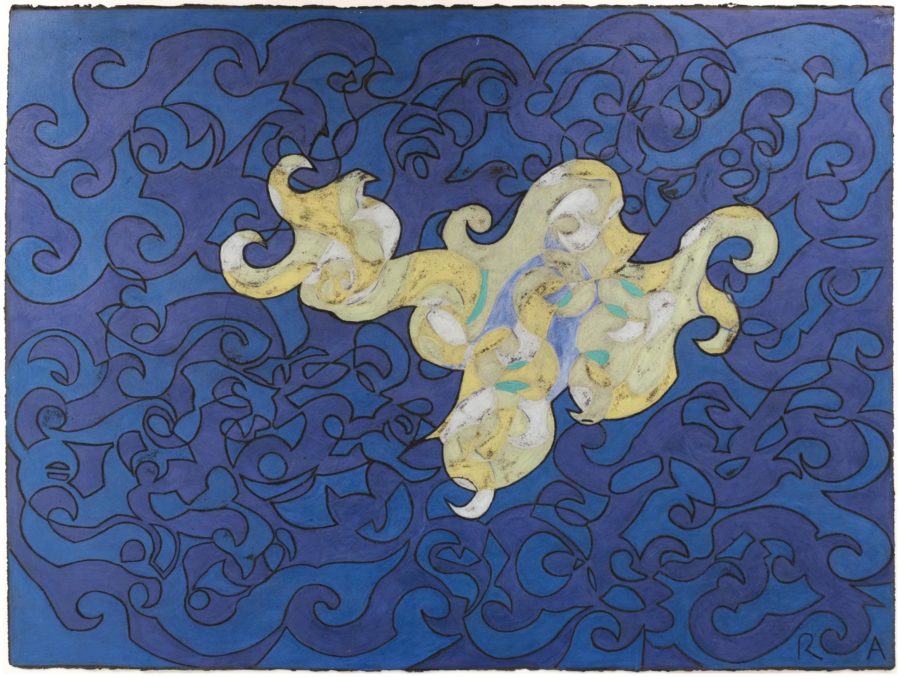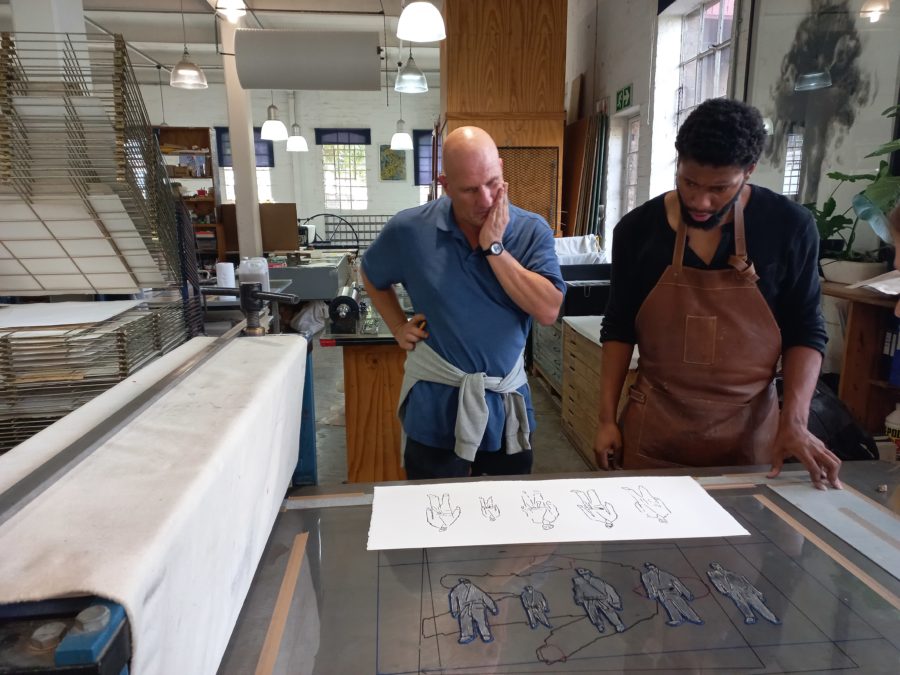 I saw an angel in the water, 2021
Coloured pencil on black etching paper
56.6 x 75.6 cm
Ryan Arenson and DKW printer Sbongiseni Khulu standing over a print in the workshop.
Through collaborating with DKW printer Sbongiseni Khulu, digital frames from the books were taken, enlarged and translated into linocut prints. The simple yet complex linocut prints incorporate chine collé elements in the same yellow awagami paper of the artist books, handwork in pencil crayon and linework made by scratching into the paper surface. These prints share certain elements with Arenson's physical drawings, such as his technique of scratching into the surface of thick, black etching paper to reveal texture and intricate linework.
This series represents a long, emotional therapeutic process that Arenson has undertaken, and will continue with indefinitely. The eventual disassembly of the installation does by no means mark the retirement of Baby Yellow. Arenson will continue to add to and develop this series, because for him Baby Yellow is not simply a project about self-expression, but rather an integral part of his rich and complex internal life made external through art.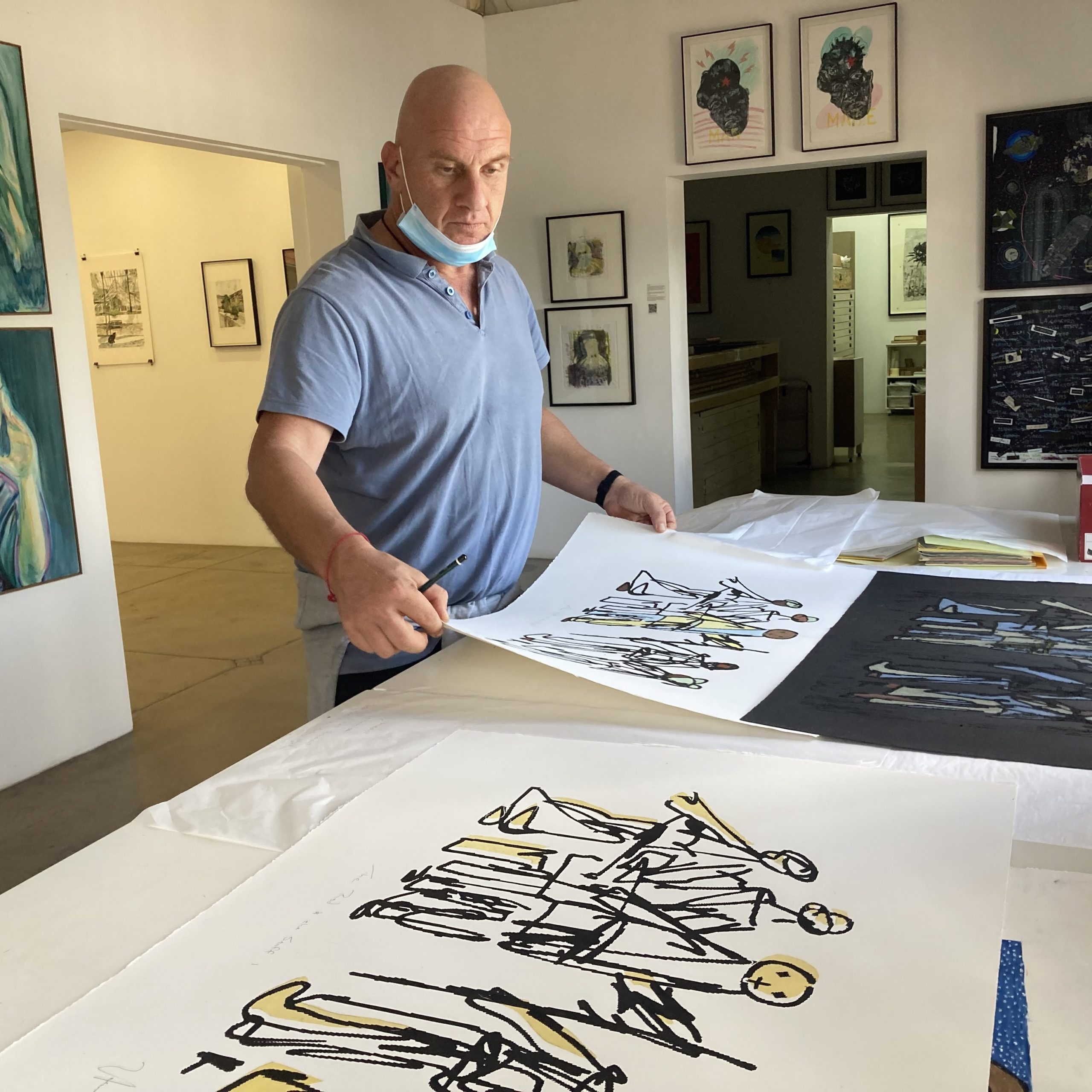 Ryan Arenson editioning his prints.