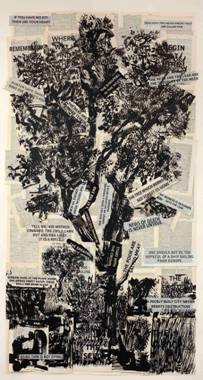 "The over determined branch: This is how the tree breaks. … For the last year I have been drawing trees. … I had Chinese brushes which hold their point for a while and then change, and the point splays out and makes a group of imprecise marks, rather than the clear calligraphic mark of the good brush. The bad brush suggests the plethora and the ordered randomness of leaves, or the feathery twigs at the end of a branch. There was a memory of some trees I had drawn in some charcoal landscapes in which I had been dissatisfied with the transformation of charcoal into foliage. Here was a chance to rescue those trees. The trees are grown. Pages of the encyclopedia with trunks, with secondary branches, foliage, grass, shadows, sunlight on a trunk are collated and collaged to make the trees. The tree can find its form. Pages can be more or less overlapped, other pages added to change the shape."
William Kentridge, 2013
If You Have No Eye is constructed from 69 linoleum plates printed onto an array of different 1950s dictionary pages that are then variously torn, cut and left whole.
Each piece is then painstakingly assembled and collaged, like a puzzle, onto another layer of dictionary sheets that serve as the background field. In total there are 104 separate pieces of paper that make up this work.
The entire process – from preparing the linoleum, carving the plates, printing the pieces, experimenting with different versions and techniques to ultimately arrive at a result with which the printmakers and the artist were satisfied; and then finally producing the full edition – took a massive two years to complete.
Artist:
---
Title:
If You Have No Eye (ed. of 24)
---
Year:
---
Artwork Category::
---
Media & Techniques:
---
Master Printer:
---
Edition Size:
24
---
Sheet Height:
202 cm cm
---
Sheet Width:
108 cm cm
---
Availability:
Available
---
Framing:
Unframed
---