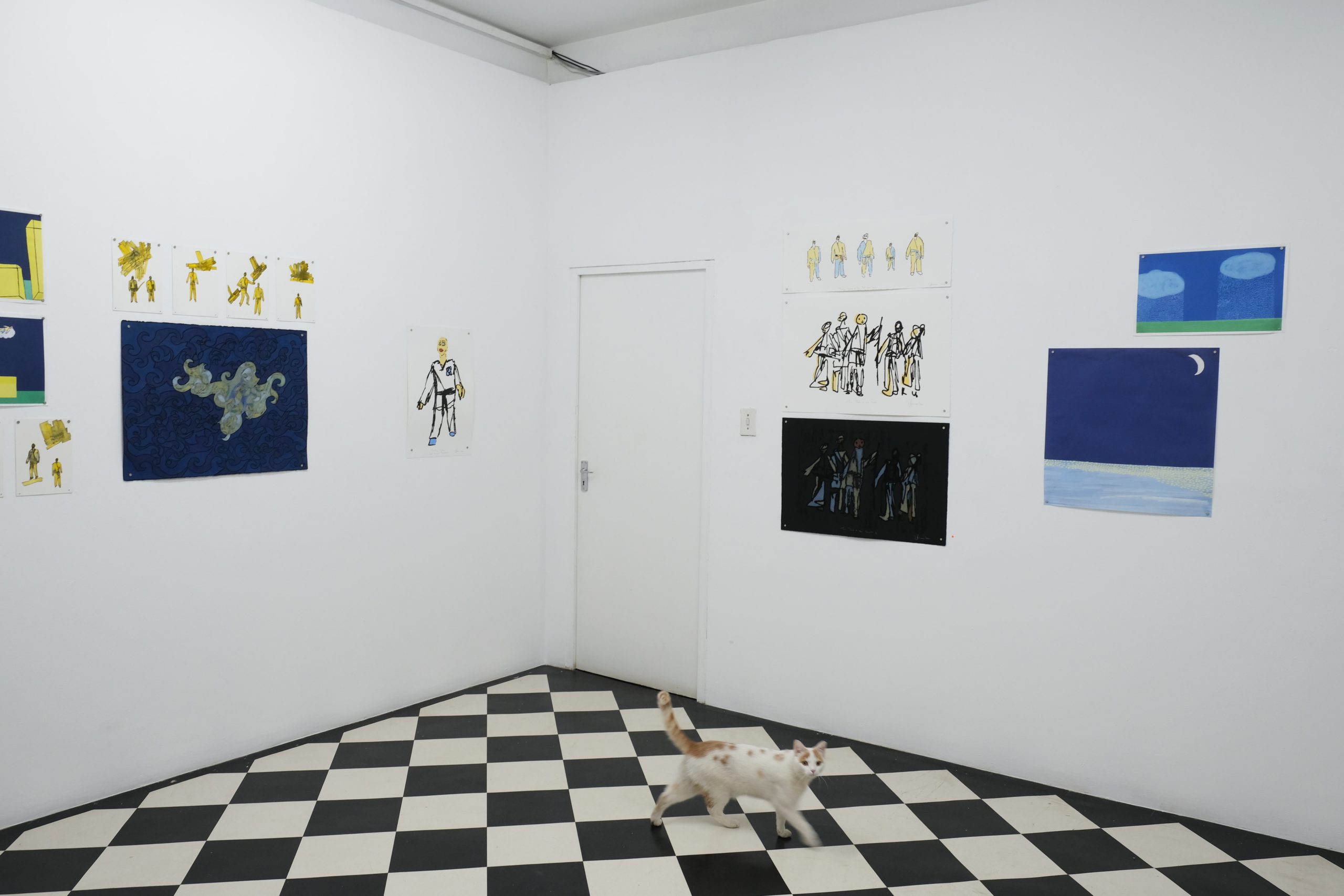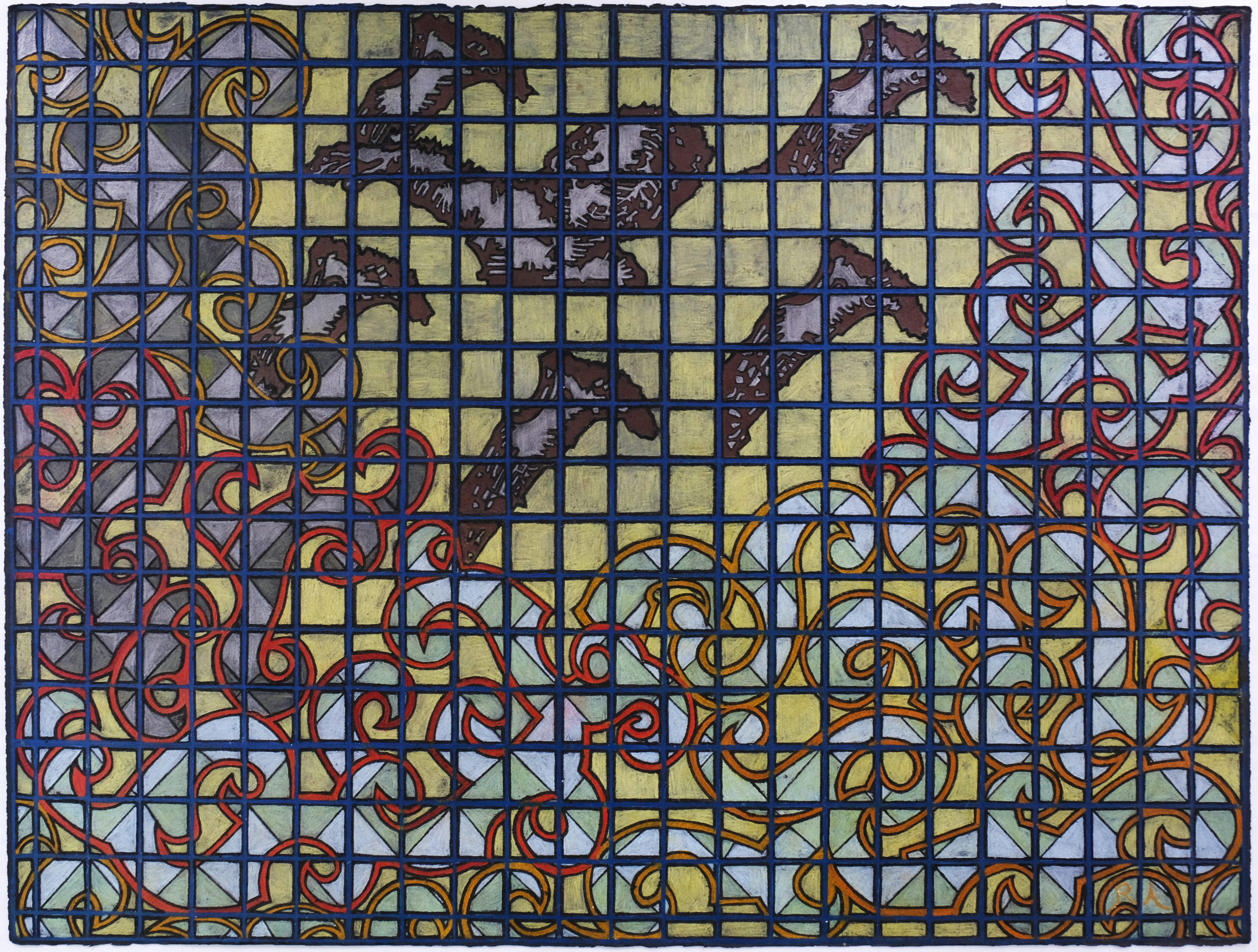 David Krut Projects is pleased to present Baby Yellow, a solo exhibition by previous collaborator Ryan Arenson, showcasing a body of work that spans over ten years, including artist books, digital, ink and pencil drawings, and prints made in collaboration with our Workshop.
Beginning with a simple drawing app on the iPad called Brushes, Arenson created a digital character called Baby Yellow, and a digital world of real-life feelings and fantasy. Brushes, used by David Hockney in his groundbreaking Paris exhibition at the same time, allowed Arenson a new way of creating, pulling him away from detailed line work that he was used to. "I felt I needed a drawing style that was freer, less self-conscious, less skilled."
Baby Yellow is a 6-year-old boy, an alter-ego whose life and inner feelings have been documented over nine books, detailing his escapades in drawing, writing, practicing t'ai chi, making music, playing in a band, and enacting wild fantasies of the adult kind. As the books develop, veering into wild territory bordering on the absurd, one is struck by the echoes of inner turmoil and deep emotion present in the stories. Framed in a childlike manner, the impact of the ideas dealt with is equally jarring and compelling.
While many of the frames in the books draw on child-like forms of stick figures and scribbles, the pages develop and expand, and Arenson is evidently unable to shed his love and aptitude for detailed line work and intricate pattern. The results are fantastical images, many of which recall naïve art, printed on thin awagami paper.
Alongside the digital artworks of the books, Baby Yellow includes a series of fantastical small-scale ink and gouache works and larger coloured pencil drawings, as well as linocut prints. The prints are derived from the digital frames of the Baby Yellow books and made in collaboration with David Krut Workshop printer Sbongiseni Khulu. The simple yet complex linocut prints incorporate chine collé elements in the same yellow awagami paper of the artist books, handwork in pencil crayon and linework made by scratching into the paper surface.
In the linocuts Arenson has preserved the pixelated line resulting from blowing up the small drawings. This turns on its head the notion of immediacy in digital artworks – a quick scribble on the iPad is painstakingly carved to resemble a digital artwork. The simulation of different media and the digital versus the handmade is also present in the books, where a black background is coloured over in white in a matter of minutes, leaving a surface that appears carved and printed in black ink on white paper.
Join us for the opening on Saturday 2 April 2022 at 10am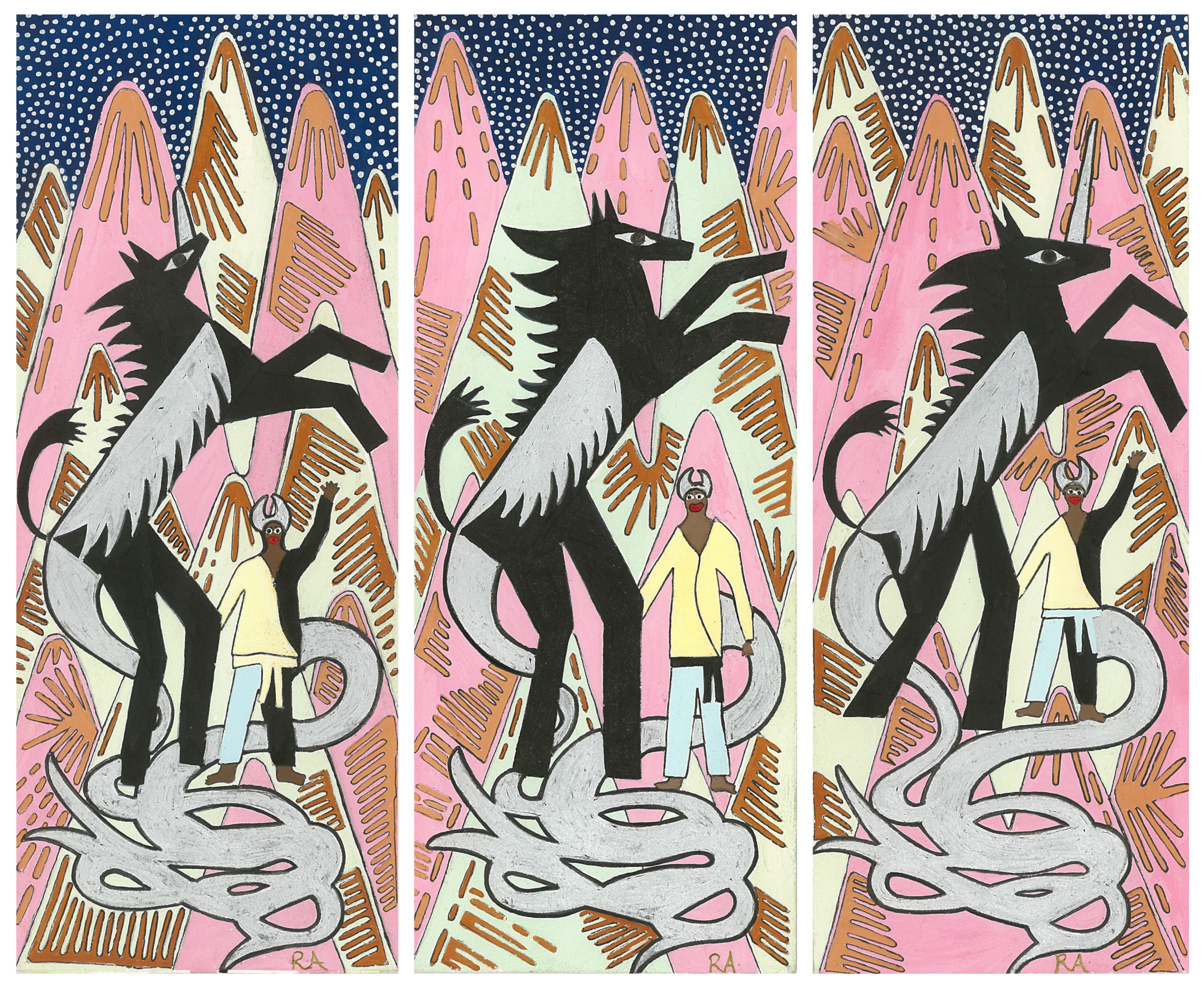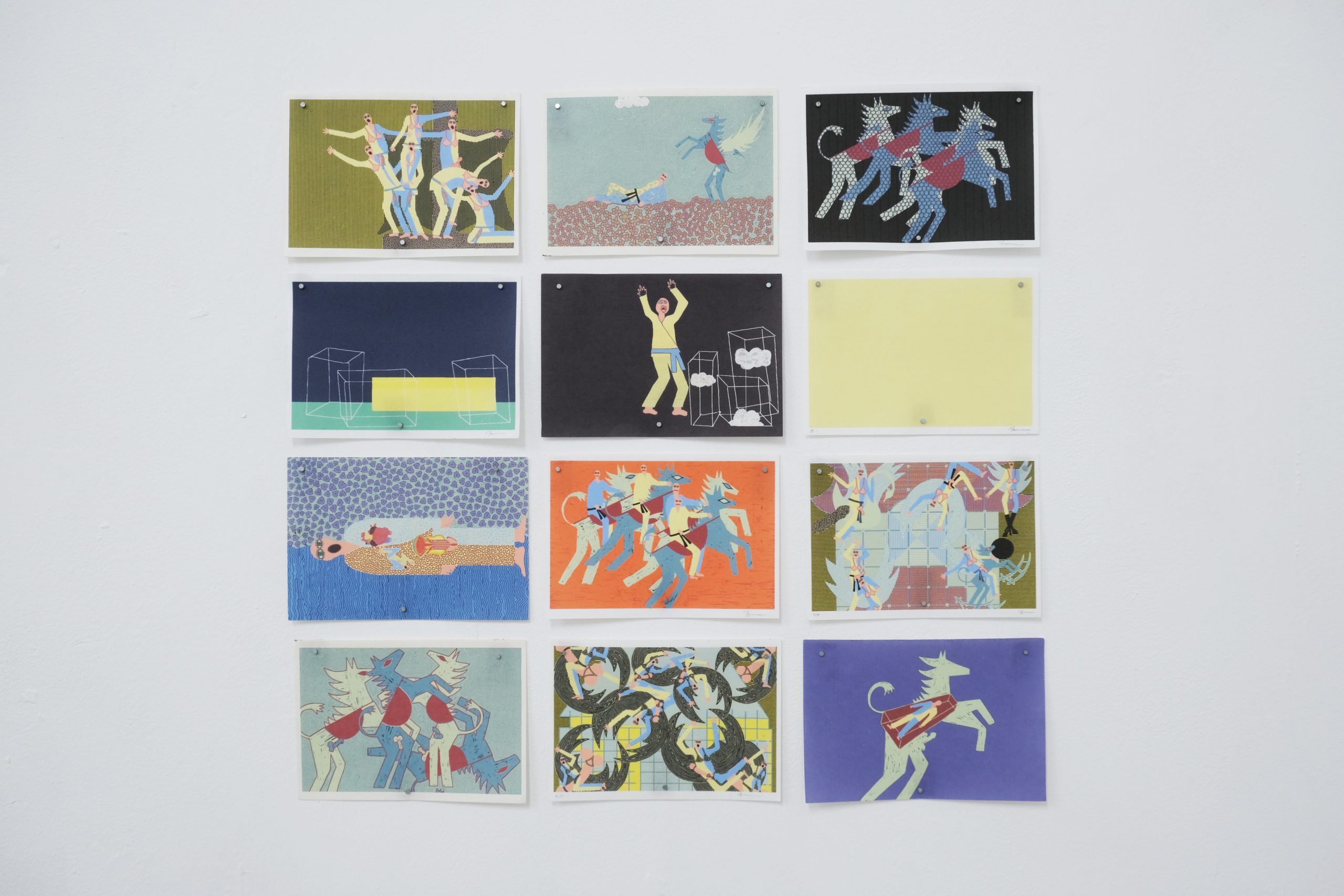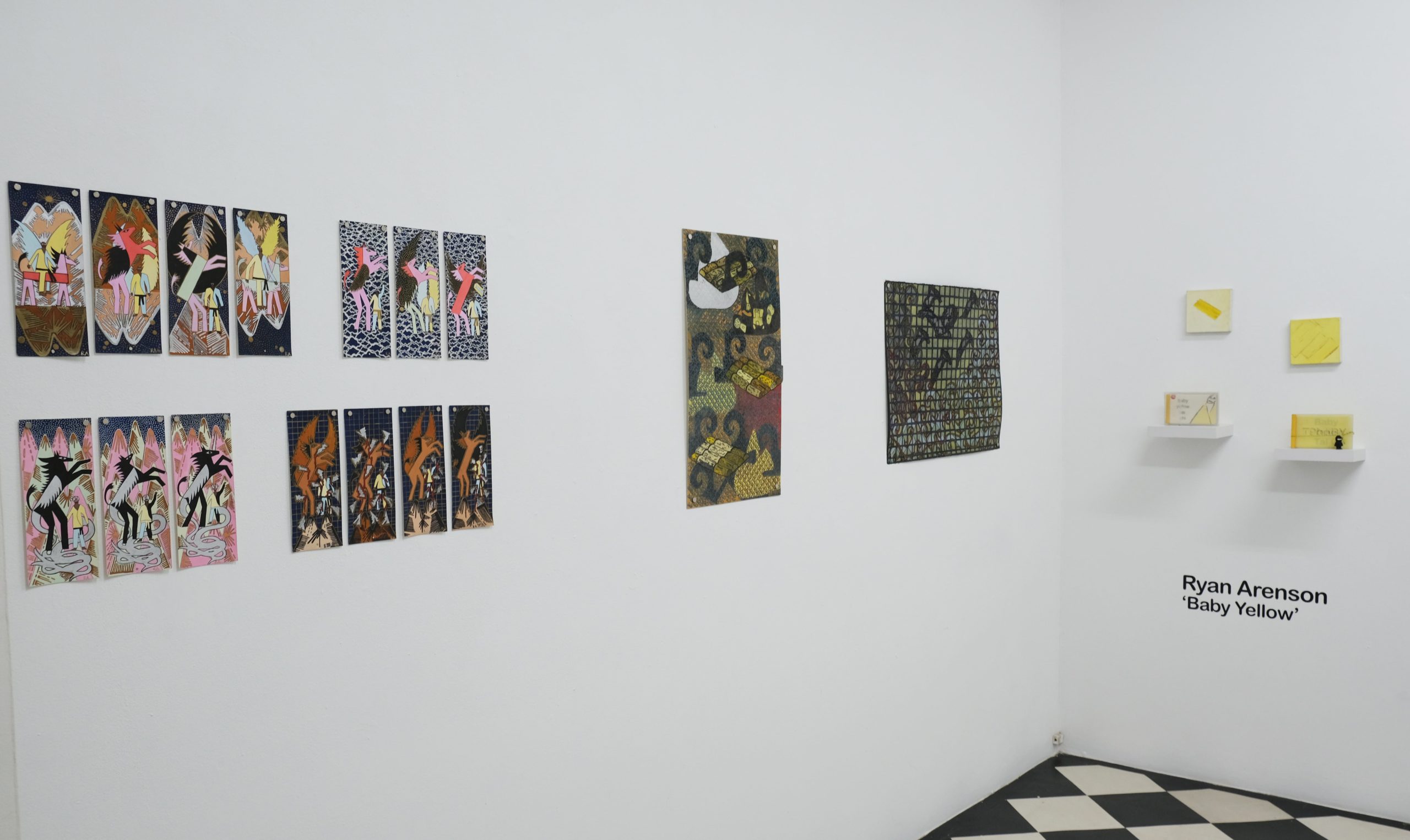 David Krut Podcast: Ryan Arenson and the world of 'Baby Yellow'… Listening time: 25 minutes.