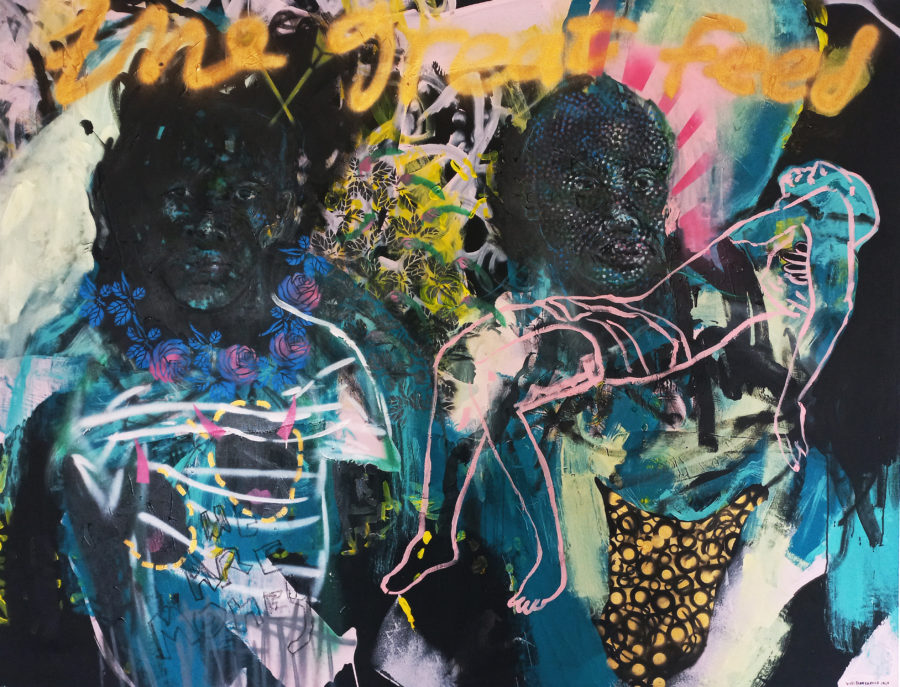 The Great Feed is a reference to the newsfeed that we are constantly being programmed by. The propaganda feed as seen on TV.  Vusi critiques the fact that often once a year we highlight parts of our history. Vusi is referencing the Soweto Uprising- an incident in the township of Soweto, South Africa, in which police fired on a crowd of Black people who were protesting for the right to education in their home language, killing or wounding some 250 of them. It was one of the most violent demonstrations against apartheid in South Africa. Hector Pieterson was one of the first casualties of the massacre, and he became the iconic image of the 1976 Soweto uprising in apartheid South Africa when a newspaper photograph of the dying Hector being carried by a fellow student was published around the world.
Vusi also speaks to the idea of religion where leaders will feed people certain things, but there is still smoke in the air. So this work brings these to different worlds together, but they all have something in common. Such as the draped figure being held, a lot of South Africans will see a dying Hector Peterson, but some people will also see a new interpretation of the Pieta with Mary holding a dying Jesus. That's two tragic stories – whether you are a Christian or you are descendant of Hector Peterson or the folks that were affected by the massacre.
Vusi also includes a rose necklace on one of the figures. This speaks to a method of execution and torture in South Africa, carried out by forcing a rubber tire drenched with petrol around a victim's chest and arms, and setting it on fire. The term "necklace" originated in the 1980s in black townships of apartheid South Africa where suspected collaborators were publicly executed in this fashion. This was often used on suspected black police informants. In American history, this relates a lot to lynching. So the roses symbolise torture, the noose and hangings – these violent acts done to teach a lesson or to make example of someone.
Artist:
---
Title:
The Great Feed
---
More about:
---
Year:
---
Artwork Category::
---
Media & Techniques:
---
Edition Size:
Unique
---
Image Height:
200 cm
---
Image Width:
153 cm
---
Availability:
Not Currently Available
---
Framing:
Unframed
---