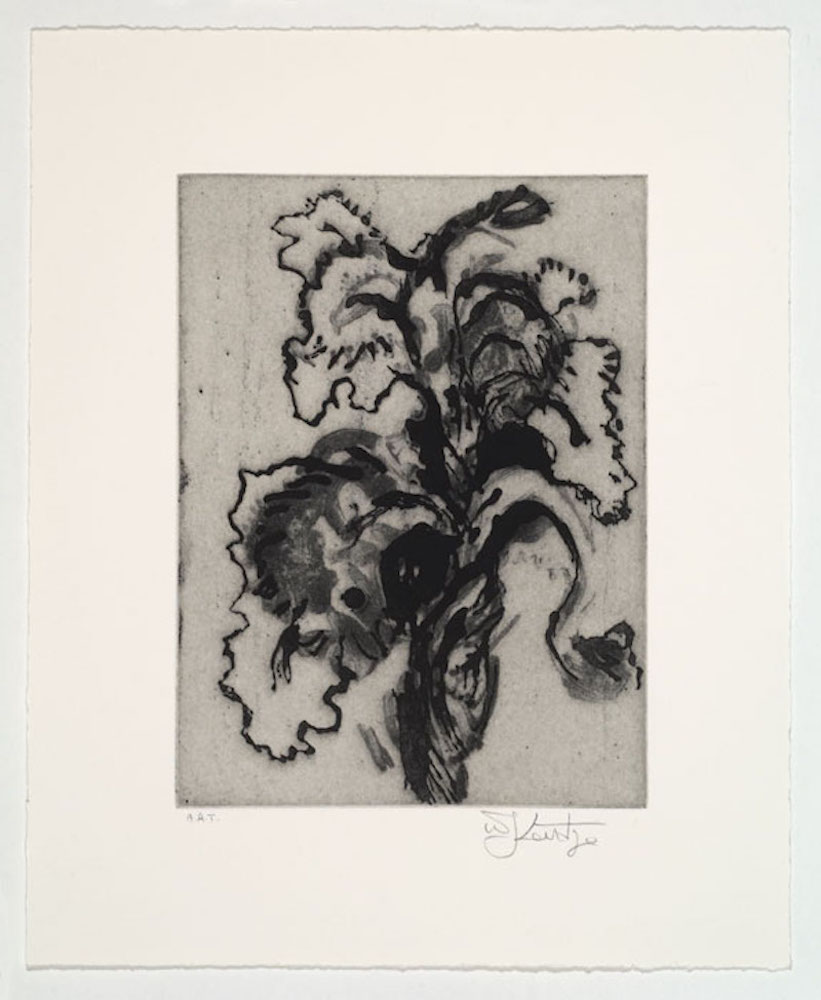 William Kentridge has often turned to images of flowers in his work. As Jacqueline Flint has pointed out, in her text relating to the large-scale linocut, Peonies, "Flower-centric still life images function in Kentridge's oeuvre like breathing space – a relatively benign image that becomes the platform for experimentation with medium, substrate, connotative content, or simply a moment in which to rest."
This pared-down and elegant image of an iris, is one of many iris images that Kentridge has produced over the years. The most iconic iris images in the artist's oeuvre being the large and unusually colourful etchings produced between 1992-1998 with Jack Shirreff.
In a 1998 interview with Onepeople, Kentridge speaks specifically about drawing irises:
Onepeople: Has your work been critiqued abroad as a contemporary metaphor for this country?
WK: Yes . . . maybe a bit too much sometimes. You draw an iris and it's seen as a metaphor for the end of Apartheid. Sometimes an iris is an iris. You read a book and you bring to the act of reading a huge amount of yourself. It's not an object that you respond to neutrally. There's a complicated dialogue between your predictions, your expectations, your hopes, things that you were thinking completely independently of the work — that together make a complicated mesh of meaning and response. And so, for some people we're coming out of South Africa and they hear the strains of Nkosi sikelel' iAfrika playing in the background and there's a whole context which is applied to the work and sometimes that pressure illuminates parts of the work and sometimes it obliterates things that don't fit into that pattern.
All work that is done – whether it is a play, or a piece of music or a book is so dependent on a sympathetic viewer or listener or audience.
Artist:
---
Title:
Flower
---
More about:
---
Year:
---
Media & Techniques:
---
Edition Size:
40
---
Image Height:
20.3 cm
---
Image Width:
15.2 cm
---
Sheet Height:
29.2 cm
---
Sheet Width:
24.1 cm
---
Availability:
Available
---
Framing:
Unframed
---