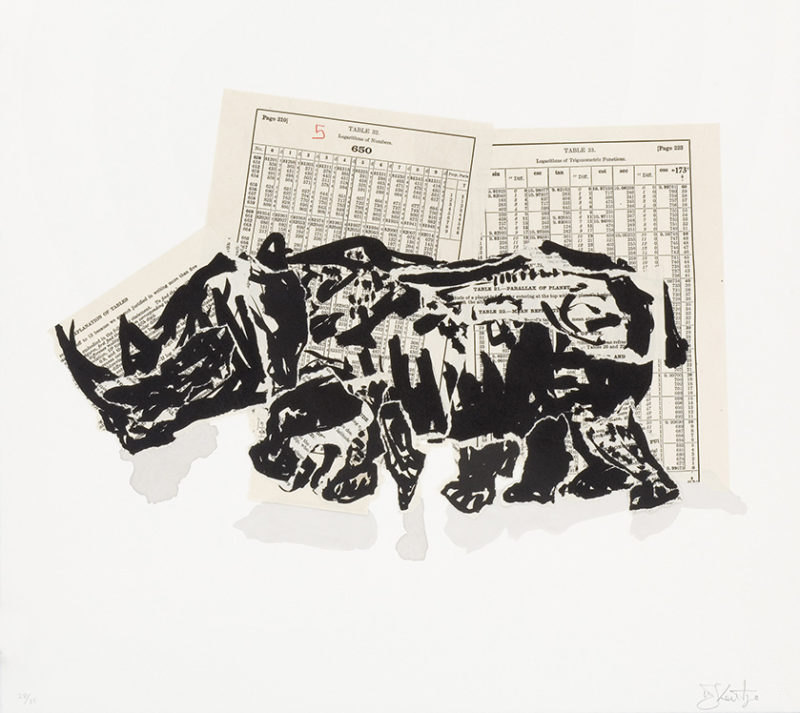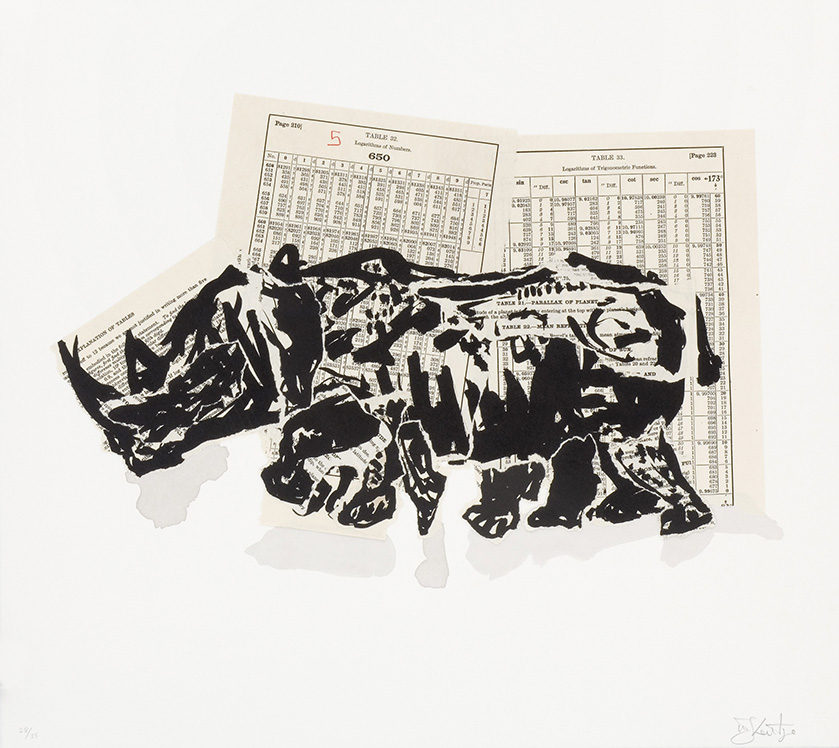 "It was only in 2005, during the work for production of Mozart's The Magic Flute…that the rhinoceros developed into a powerful and complex object of reference for Kentridge.
In a series of rhinoceros lithographs created in 2007, the animals are presented in an assertive fashion. Their movements are more natural, even hint at combativeness…Their natural dynamic is amplified by the collage technique: the lithographs were initially printed on pages of large books. These prints were then torn, creating separate image shreds, which were then collaged together by the artist. While the body of the animals is given a (new) form through the piecing together of shreds of paper, the original order of the pages of the book is scrambled: the book's language-based ordering of knowledge is transformed into a new visual order through the poetic labour of the artist. In this way, representations of rhinoceroses emerge as a result of the artistic action, as a poetry of the simple activity of the hand, whose movements in the newly created order remain visible and thus can be traced by the viewer."
This text is extracted from Andreas Schalhorn's essay, "Printing Black and Seeing White", which appears in Double Vision: Albrecht Dürer/William Kentridge, published to accompany an exhibition of the same name that was shown at Kulturform – Staatliche Museen zu Berlin from November 2015 – March 2016, and Staatliche Kunsthalle Karlsruhe from September 2016 – January 2017.
Artist:
---
Title:
Rhino (Head Down)
---
Year:
---
Artwork Category::
---
Media & Techniques:
---
Edition Size:
35
---
Sheet Height:
45 cm
---
Sheet Width:
50 cm
---
Availability:
Not Currently Available
---
Framing:
Framed
---