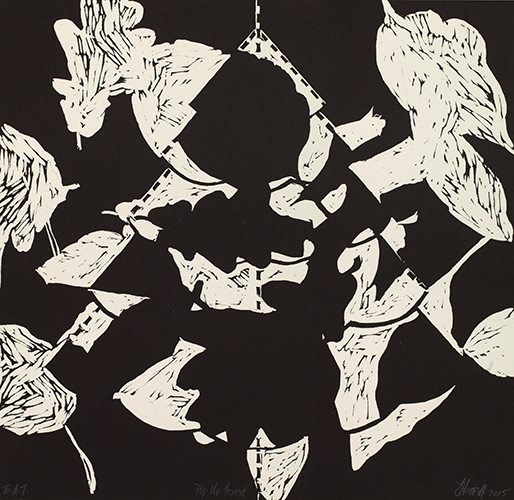 For Pop-up Forest, Hobbs drew inspiration from:
a) The strategic use of makeshift "pop-up forests" in the First and Second World War.
b) The pop-up book, Untitled, which was made for his solo show at DKP, Be Careful in the Working Radius (2013).
Hobbs uses leaf shapes from the Newlands forest in Cape Town as a camouflaged pattern across the surface of a pop-up plan for a stereotypical tree shape. The process was complicated by the overlapping of these sources, which entices the viewer to make sense of the tree outline and the overlaid leaf pattern simultaneously.
Artist:
---
Title:
Pop-up Forest (ed. of 15)
---
More about:
---
Year:
---
Artwork Category::
---
Media & Techniques:
---
Edition Size:
15
---
Sheet Height:
28.5 cm
---
Sheet Width:
29.5 cm
---
Availability:
Available
---
Framing:
Unframed
---