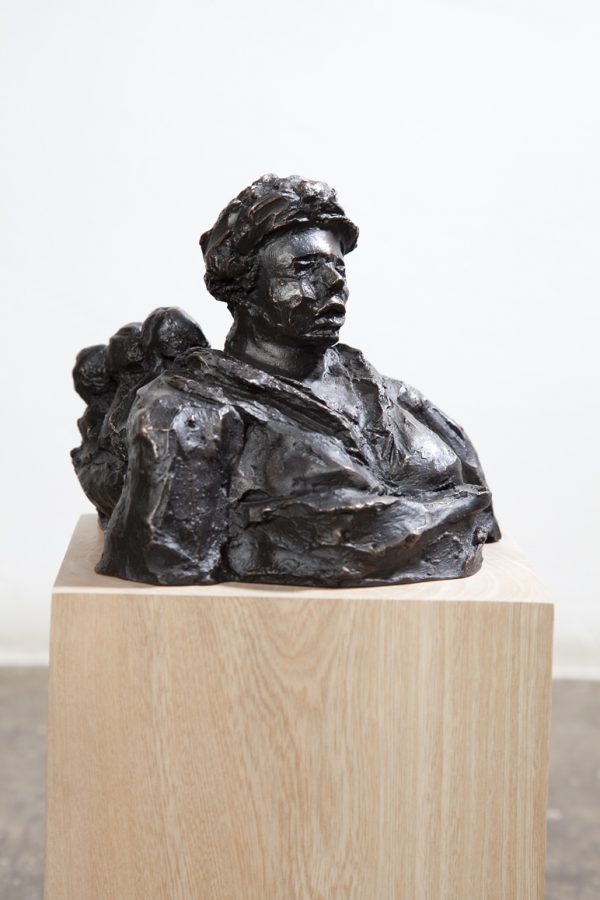 For his solo exhibition, Senzo Shabangu has created his first bronze sculpture in collaboration with David Krut Projects and Workhorse Foundry.
The sculpture was inspired by Vusumuzi Mandlakayise. The first part of the title "Vusumuzi" means "raise the house", as in, build a house, create a home, and is a direct reference to the central figure carrying his family on his back. The figures being carried on the man's back are his mother, his wife and his son. The second part of the title "Mandlakayise" should be broken into two parts 'Mandla' and 'kayise'. 'Mandla' means power, but in this instance is a name, most likely of the boy being carried on the man's back. The modifier 'kayise' means 'of his father'. So the English transliteration of the title is "Raise the house, power of his father" and depicts a man relocating his extended family to Johannesburg to make a life. The title has connotations of responsibility and paternity. The image is an attempt to personifying the saying.
When talking Carry your youth, Shabangu says it is rare to find people in power "Climbing the rainbow of dreams" with other people. The existing scenario is more of leaders and followers rather than carrying along.
Artist:
---
Title:
Carry Your Youth
---
More about:
---
Year:
---
Artwork Category::
---
Media & Techniques:
---
Availability:
Not Currently Available
---
Framing:
Unframed
---