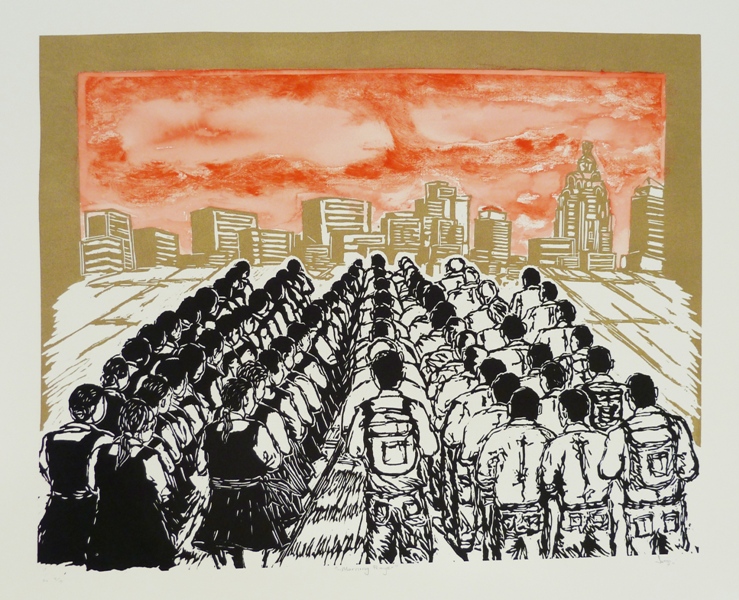 In Morning Prayer, Shabangu continues an exploration into the life in the city of Johannesburg. In his own words, he says "The very thing that gives Johannesburg its appeal, is in many ways, and is what makes it difficult to accept: its naked honesty. The city does not hide its problems or weaknesses from view. It exposes them openly, from the potholes and beggars in the streets to the opulence of the high-rise buildings that tower over its inhabitants".
Shabangu sees the possibility of people being larger than their immediate surroundings and are thus able to rise above it. Shabangu's work looks at the pressure that drives people to desperation as being the same stress and tension that motivates people to persevere in a place that is wrought with potential. These art works are his way of understanding himself within the context of chaos and the infinite prospects of Johannesburg.
This image was carved by the artist and was printed on an etching press. The matrix consists of two pieces that fit together like a puzzle. The image was printed using a combination of relief and etching inks. The work includes hand painting, as seen in the sky on each print.
Text by Siphiwe Ncube
Artist:
---
Title:
Morning Prayer
---
More about:
---
Year:
---
Artwork Category::
---
Media & Techniques:
---
Edition Size:
E.V 15
---
Sheet Height:
64.8 cm
---
Sheet Width:
74.1 cm
---
Availability:
Available
---
Framing:
Unframed
---