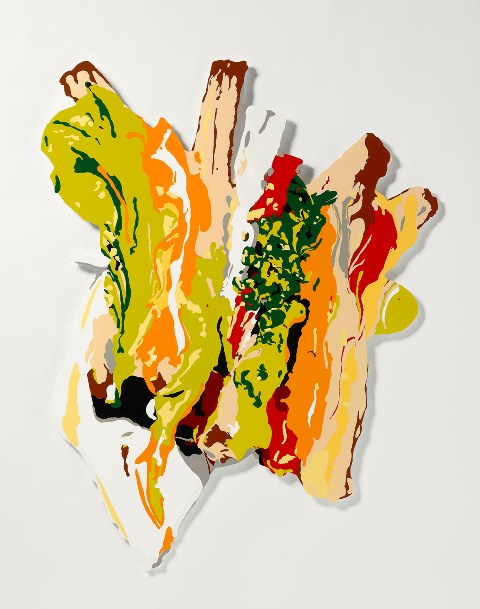 British Artist Boo Ritson studied Fine Art at the University of Buckinghamshire, before going on to complete her M.A in Fine Art at the Royal College of Art in 2005.  David Krut has a long standing relationship with Alan Cristea Gallery in London. The Alan Cristea Gallery is one of the most important publishers of editioned work in the world and works closely with Boo Ritson.
In 2010 Ritson exhibited in a group show at David Krut Projects alongside Howard Hodgkin and Julian Opie.
The body of work showcased include – Cake, Bagel and Sandwich – a series of screenprints on plexiglass of classic American diner food, themes that are synonymous with the pop-art movement. These works were first exhibited at the Alan Cristea Gallery in 2009 in an exhibition titled Back-Roads Journeys. The narrative of this exhibition was associated with life on an American highway beginning in The Diner.
Ritson is best known for the works which depict characters and still-lives drawn from her own imagined narratives. Ritson has always located her work in an American cultural context and has been fascinated by the process, history of painting. For each piece she literally paints her subject in a thick emulsion and then photographs the sitter or object whilst the paint is wet. Ritson's work emphasizes the sensuality of paint and demonstrates that painting is still something unique as a medium that simultaneously describes and defies reality and our perception of it.
Ritson has exhibited extensively in the United Kingdom and in 2008 held her first solo exhibition at Bravin Lee in New York. Her work is included in several international collections including the Saatchi Collection, Zabludowicz Collection, The Speyer Family Collection, New York, Chadha Art Collection, Netherlands- as well as prominent collections in France, Spain, Portugal, Russia, Italy and Germany.