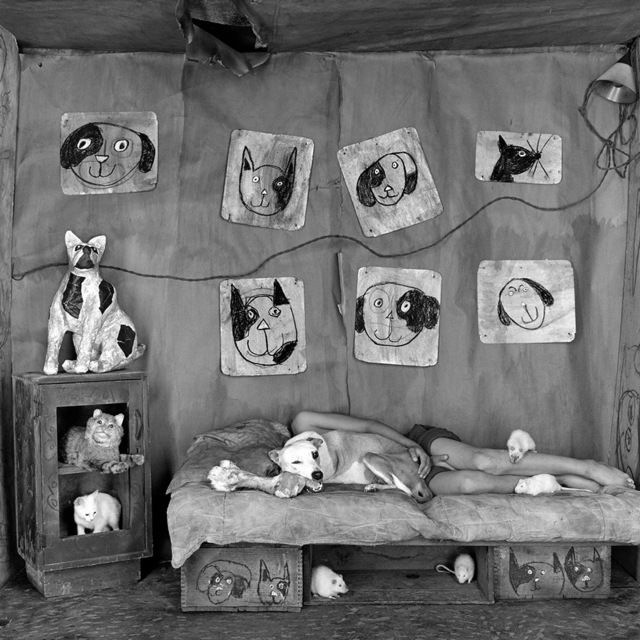 Collaboration history
Biography
Roger Ballen has lived and worked in Johannesburg, South Africa, for the past three decades. One of the most influential and important photographic artists of the 21st century, Roger Ballen's photographs span over forty years.  His strange and extreme works confront the viewer and challenge them to come with him on a journey into their own minds as he explores the deeper recesses of his own.
Roger Ballen was born in New York in 1950 but for over 30 years he has lived and worked in South Africa. His work as a geologist took him out into the countryside and led him to take up his camera and explore the hidden world of small South African towns. At first he explored the empty streets in the glare of the midday sun but, once he had made the step of knocking on people's doors, he discovered a world inside these houses which was to have a profound effect on his work. These interiors with their distinctive collections of objects and the occupants within these closed worlds took his unique vision on a path from social critique to the creation of metaphors for the inner mind. After 1994 he no longer looked to the countryside for his subject matter finding it closer to home in Johannesburg.
In his artistic practice Ballen has increasingly been won over by the possibilities of integrating photography and drawing. He has expanded his repertoire and extended his visual language. By integrating drawing into his photographic and video works, the artist has not only made a lasting contribution to the field of art, but equally has made a powerful commentary about the human condition and its creative potential.
Ballen started to experiment using different spray paints on glass and then 'drawing on' or removing the paint with a sharp object to let natural light through. The results have been likened prehistoric cave-paintings: the black, dimensionless spaces on the glass are canvases onto which Ballen has carved his thoughts and emotions. He also released a related animated film, Theatre of Apparitions, which has been nominated for various awards.
In September 2017 Thames & Hudson published a large volume of the collected photography with extended commentary by Ballen titled Ballenesque Roger Ballen: A Retrospective.
Halle Saint Pierre in Paris opened an exhibition September 6th 2019 titled The World According to Roger Ballen.  Thames & Hudson published the book in French and English to accompany the show.