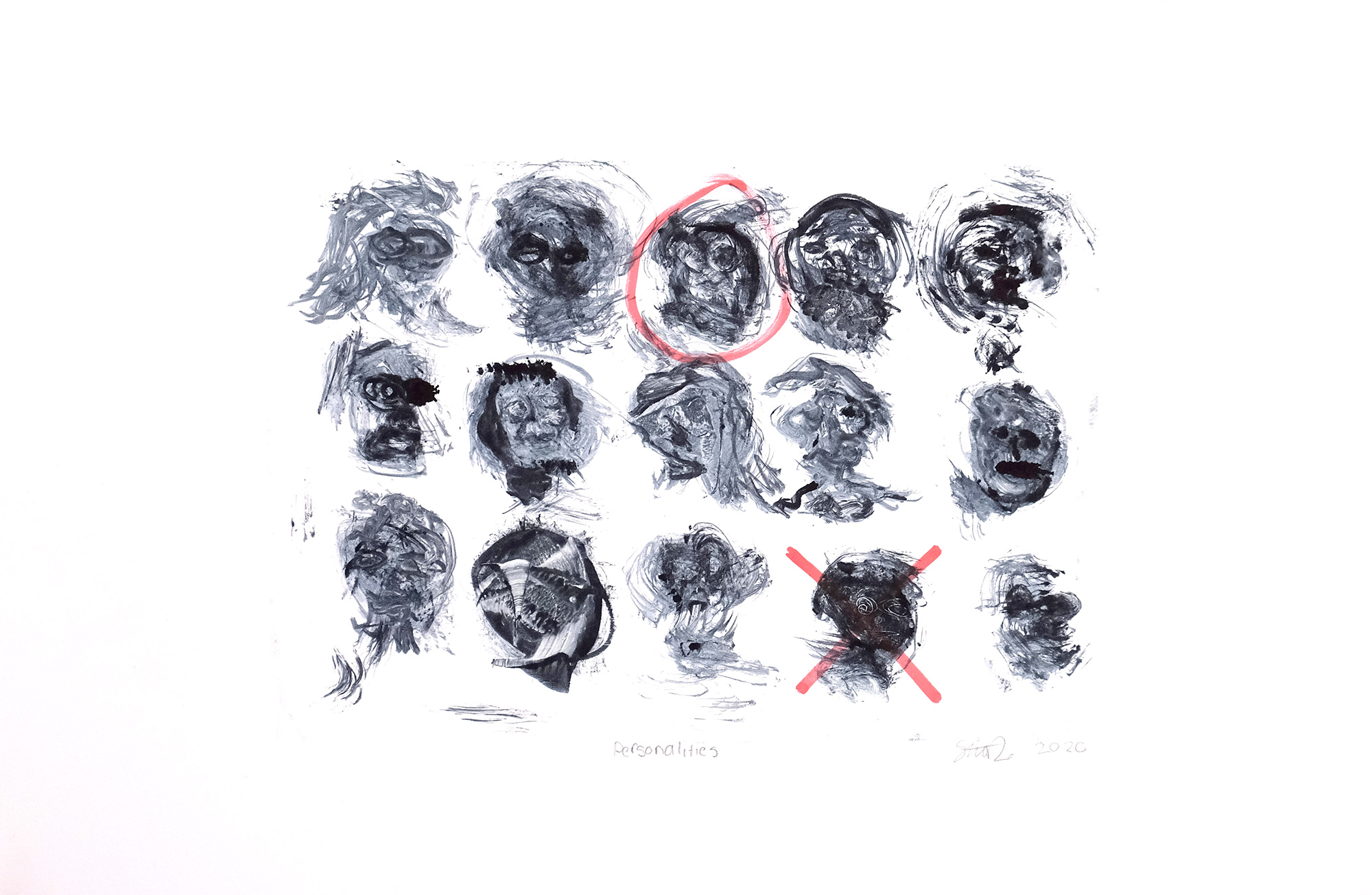 Collaboration History
In late 2019, Stian Deetlefs was introduced to David Krut Projects by Armand de Montbron, who is a long-standing friend of the organisation and who discovered Deetlefs' work on the 2019 Joburg Fringe.
Following the positive attention Deetlefs' work received while hanging in the David Krut Projects space at THE BLUE HOUSE, 151 Jan Smuts Avenue, and a number of successful studio visits to Deetlefs' temporary studio space in Parkview, a decision was made to pursue a collaboration that included a short-term residency at THE BLUE HOUSE, during which Deetlef's produced a number of paintings and sculptures. Deetlefs has also spent some time working on monotypes with David Krut Workshop printers, Roxy Kaczmarek and Sarah Hunkin. These works, along with a number of earlier works produced by Deetlefs in his own studio space, form the exhibition Fragments of Our Identity. Initially planned as Deetlef's first solo show with DKP, owing to the South African national lockdown, which was announced in response to the COVID-19 pandemic, Fragments of Our Identity transformed into a virtual exhibition in partnership with Artsy, on view from mid-April 2020.
Biography
Stian Deetlefs is a contemporary South African artist who was born and raised in Richard's Bay, a major industrial port city on the North Coast of Kwa-Zulu Natal, and much of his work reflects on his experience of this heavily industrialised environment.
Deetlefs' subject matter is drawn from his daily life working in factories for minimum wage, presented through intensely layered and gestural marks, using a combination of both traditional fine art media – oil paint and pastel, for instance – as well as industrial, household and found material – such as PVA and spray paint, stainless steel and burnt wood substrate. He is fascinated by the work of modern Abstract Expressionist artists, such as Jackson Pollock, Willem de Kooning, Jean Dubuffet and Jean-Michel Basquiat, and his portraits of people he has encountered on the street, in the port, during his daily life engaging with the working class and informal sector are presented through the lens of his understanding of modern art history. Both his painting and sculpture practice employ the idea of thrown-away objects as a metaphor for 'thrown-away people', aiming to provoke a sense of uncertainty through expressive gestures in which the viewer can get lost.
White Hot Magazine Review by Jonathan Goodman – June 2020
David Krut Podcast |Stian Deetlefs – Fragments of our Identity | Listening Time: 21 min