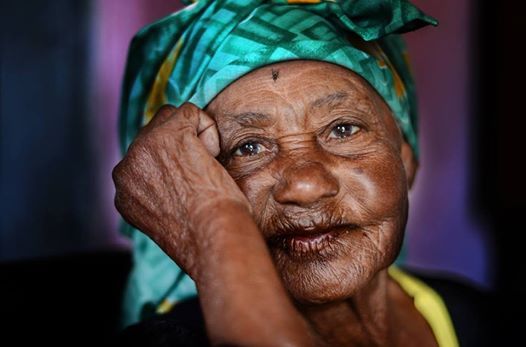 Moira Forjaz: Mozambique 1975/1985
For Moira Forjaz, published a book of photographs of Mozambique from 1975-1985, photography is a serendipitous process:
"My photographs are one-offs. During my time in Mozambique, I rarely took more than one shot of a subject. All the photographs in the book are negatives – their black border shows  that they are not cropped. My approach was very spontaneous. The theme of the book is loosely based on assignments that I was given the privilege to photograph at that pivotal time – many of which I found out about through Ruth First who was working in exile in Mozambique for much of that time, until she was assassinated in 1982."
Forjaz's approach to photography was impacted by her close friendship with First, who she met when she came to South Africa from Bulawayo in 1960. Their paths crossed again in Mozambique in 1974 when Forjaz began a decade-long photographic sojourn in which she documented the domestic everyday alongside the heightened political momentum of a country which had just won a ten-year battle for independence.
During this time, First played a significant role in Forjaz's political engagement, which she expressed through her camera: "Ruth gave me a reason and opportunity to travel in Mozambique and take photographs, always inviting me to document the projects that she was involved in at the time".
Prior to this, Forjaz spent four years in South Africa (1960-1964) when she became enmeshed in a highly politicized cultural network. She remembers it as a time "when art was about engaging the public sphere, when becoming a solitary artist wasn't really an option".
Forjaz was in her early twenties studying Arts at the Johannesburg School of Arts and Design and mixing with key cultural figures such as Barney Simon, David Goldblatt (a mentor with whom she shared a studio), Sam Haskins and Jürgen Schadeberg. Forjaz was an apprentice photojournalist to Schadeberg at his studio where she learnt how to develop film and was exposed to the political possibilities of photography.
Having learnt her photographic ABC's in apartheid South Africa, Forjaz decided early on in her career to stick with the photographic medium:
"Photography has always been there for me in many ways. I didn't like the solitude of painting. I liked the way the photographic medium took me out and forced me to be an extravert" – Forjaz.
The press release for Forjaz's book reads:
"In this exquisitely photographed book Moira Forjaz documents the momentous years of Frelimo's Mozambique, from landscapes to coal mines, rural life and the pulsing rhythms of city life. The reader of this book will be left with a heartbreakingly clear snapshot of a country both ravaged by war and lifted up by hope."