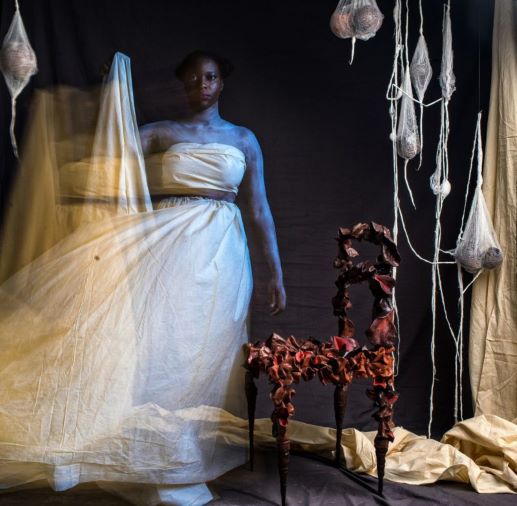 Collaboration History
Collaboration between Stacy Gillian-Abe and David Krut Projects (DKP) started in 2019 when a few of Gillian-Abe's performance stills were on show at DKP's booth at LATITUDES Art Fair.
Biography
Stacey Gillian Abe was born in Uganda in 1990 and graduated with a B.A (Hon.) in Art and Industrial Design from Kyambogo University in 2014. Her work can be viewed as a mirror of her past memories, specifically as an African young woman, as well as a continuous exploration of her personal experiences within the communities she inhabits.
Stacey Gillian Abe's concepts highlight specific complex situations as autobiographical documentations drawn from earlier and continuous experiences; they attempt to critique stereotypical depictions of her as a black woman by drawing focus to the mind's suppleness. These materialize into imagined spaces that instigate a surreal mystical feel to the work at their best borne of two realms contrasting and complementing each other. The work probes unsettling narratives on the subject of identity, gender, spirituality and cultural mysticism, the past and present.
Each space that Gillian works on has its own contexts and gets its own interpretations; it also springs views on self-resilience and what can be overcome.
She has incorporated a metaphorical and experimental approach to her work through her interest in exploring new techniques with parallel mediums like glass and ceramics, fibres, textures and light photography. They draw attention to the hand-made through the method of tying together and binding, stitching, clustering and pairing which are assembled and layered in metaphorical constructs.
Stacey Gillian-Abe is represented by Gallery: Afriart