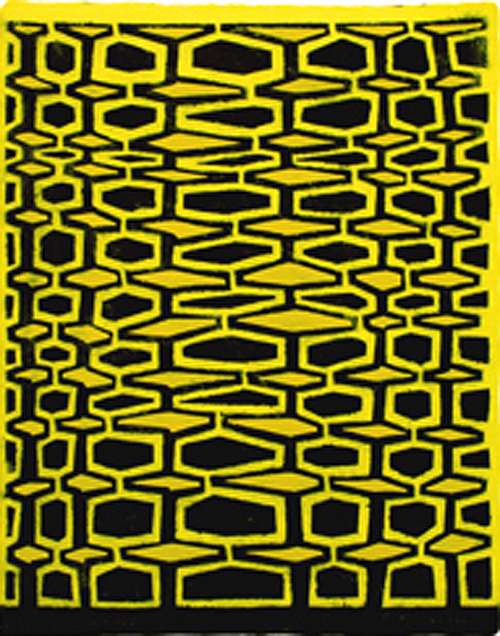 "I don't make marks. I make moves." – James Siena
"When I make a painting, I respond to a set of parameters, like a visual algorithm. These structuring devices are subject to the fallibility of my hand, and my mind's ability to complete the work as planned." – James Siena
Known for his highly dexterous patterns and optical puzzles, James Siena explores the potential of planar space through repetitive mark-making and the fallibility of the hand-drawn line, constructing delicate mazes that emerge out of the flat surfaces of his prints, paintings, and drawings. While Siena begins with a specific concept in mind that generates his visual algorithm, the systematic rendering maintains the energy of a freehand drawing, challenging the automatic sign into an impulsive, meticulous, gestural mark. Siena's works, filled with pattern, mazes, and optical games, become records of his movement across and through the page. Siena's concentration on his mark-making renews the pattern with a personal touch, rendering an entry-point into the linear network system. More than thoughtless doodles, these visual labyrinths create depth that map out a space built by repetitive mark and methodical layering. The challenge is for the viewer to decide where to enter and how to exit or to enjoy the process of getting lost.
James Siena received his BFA from Cornell University, Ithaca, NY in 1979. Siena's work has been featured in many exhibitions including: the Greater New York show (2000) at PS1 MoMA, ten-year retrospective exhibition at the San Francisco Art Institute (2003), Whitney Museum of American Art Biennial (2004). The recipient of multiple honors and awards, James Siena has been awarded The New York Foundation for the Arts Fellowship in Painting (1994), the Louis Comfort Tiffany Foundation Biennial Competition Award (1999), and an award in art from the American Academy of Arts and Letters, New York (2000). Siena's work can be found in several public collections including: Metropolitan Museum of Art; Herbert F. Johnson Museum of Art, Cornell University, Ithaca, NY; Museum of Fine Art, Boston; The Museum of Modern Art, New York; the Philip Morris Collection; San Francisco Museum of Modern Art, San Francisco; and the Whitney Museum of American Art, New York.
James Siena currently lives and works in New York City.