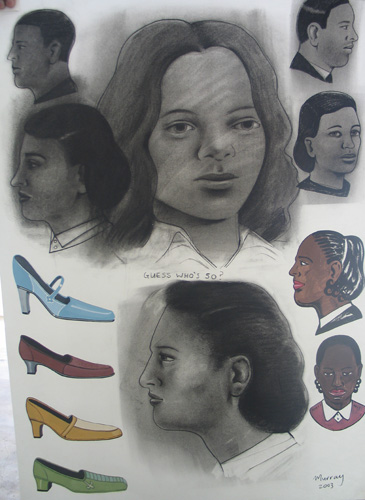 John Murray was born in 1973 and obtained a BA Fine Arts degree from the University of Stellenbosch in 1996, where he subsequently worked as a part-time lecturer in Screenprinting. During the following five years he has worked as a freelance illustrator.
He began taking part in group exhibitions in 1996, including "Portraits" (The Planet Site 1996), "Bad Books" (Arts Association Bellville 1997) "Drom"(KKNK 1997), "Unplugged 3" (Market Theatre Gallery 1998), "Canvas" (Bellville 1999), "Absolut Secret" (AVA 2000), "Container" (Rust-en-Vrede 2000), "Waver" (KKNK 2001) and various Stellenbosch University Student and Staff exhibitions. He held his second solo at the Bell-Roberts Gallery in 2001. He ahs also exhibited in group exhibitions in Marbella and in London.
John Murray's charcoal drawings combine a diverse series of iconography, fusing reality with the imaginary, personal with public. His work creates a merry mix of notions surrounding visual overload, melancholy, violence, ambiguity, religion and more.
(Information from: http://www.absolutearts.com/artsnews/2002/05/29/29963.html)