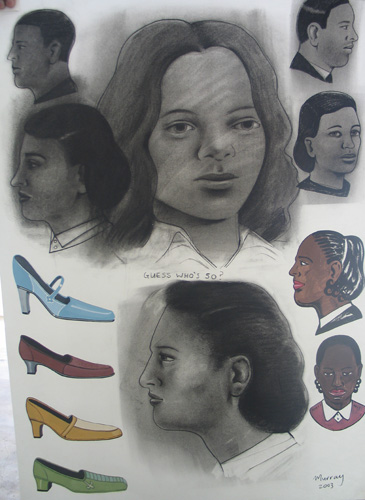 John Murray is a South African painter living and working in Cape Town South Africa. Finding significance in the contrasting states between the tangible and the imperceptible, playfulness and seriousness, Murray moves between representational and nonrepresentational forms. The two modes work together as a result of his gravitation towards ambiguity – an uncertainty that began as a manifestation of frustration, but became a source of meaning, as he explains: "…my [work is] conceptually elusive and rather enjoys functioning in a sort of liminal space".
Working in oil on canvas as well as in collage and bricolage, the images used in his figurative compositions are often interpretations of found objects and photographs. Some of these images have specific cultural, historical or political significance, while others are trivia collected from the artist's everyday surroundings. These composite images or compositions prompt viewer specific responses and associations, with the juxtaposition of images acting as triggers or catalysts for meaning and evoking the uncertain overlaps between a number of contrasting states.
John Murray's charcoal drawings combine a diverse series of iconography, fusing reality with the imaginary, personal with public. His work creates a mix of notions surrounding visual overload, melancholy, violence, ambiguity, religion and more.
To date, Murray has held 11 solo shows and participated in numerous group exhibitions both locally and abroad, as well as workshops and residencies in New York City, Amsterdam, London and Cape Town. Additionally, he has created two large-scale, site-specific mural commissions, one of which is located in the USA.
(This bio has been adapted from the artist's profiles courtesy of RMB Turbine Art Fair and Whatiftheworld Gallery.)