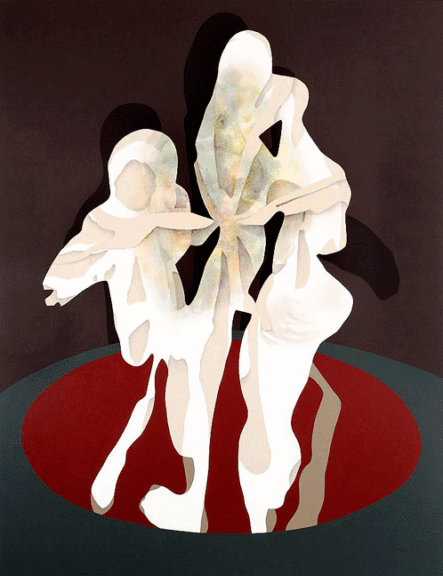 Moyer received a BFA from Pratt Institute in 1985 and an MFA from the Milton Avery Graduate School of the Arts at Bard College in 2000. In 1995 she was a student at the Skowhegan School of Painting and Sculpture. Moyer has been awarded numerous grants, awards and residencies including a Joan Mitchell Foundation Painters and Sculptors Grant and an Anonymous Was A Woman Award (both 2009), Creative Capital Grant (2000), Elaine de Kooning Memorial Fellowship (1999), Peter Norton Family Foundation Project Grant (1999) and the National Studio Program at PS1/Institute for Contemporary Art, New York, NY (1996). She is a Professor in the Art and Art History Department and Director of the Graduate Program at Hunter College and Vice Chair of the Board of Governors at Skowhegan School of Painting and Sculpture in Maine.
Critic Martha Schwendener has written about Moyer's paintings:
Painting is a neurotically self-conscious medium—it's always looking over its shoulder, responding to earlier eras and earlier ideas. Carrie Moyer puts that self-consciousness at the center of her work. But where mash-ups of different periods and styles have become popular with post-postmodern painters (and often end up looking like conceptual train wrecks), her canvases are cool, seamless—almost alchemical.
Slipping between abstract and representational, the raw canvases are built up with strata of translucent and opaque color, positive and negative shapes, and solids and silhouettes that reference different historical periods: ancient fertility figures with bulging hips; vases with breasts circling their perimeters; murky blobs that recall the paintings of biomorphic Surrealism. But there's an unsettling subtext here, a suggestion of the way women have served as talismanic muse-objects in past art instead of intelligent innovators…