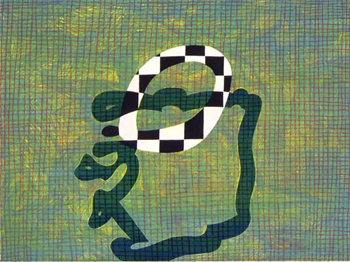 Named the "post-minimal formalist," by LA Weekly, Thomas Nozkowski's shift from sculpture to painting in the mid-1970s enabled him to exploit his sculptural notion of form and objecthood to create abstract paintings that oscillate between hard-edged shapes to organic forms.  After being taught by the Abstract Expressionists and Bauhaus teachers at Cooper Union in the late 1960s, Nozkowski embraced the potential of the small-scale, specifically the 16"x20", in which he combined both artistic traditions, the improvisational mark of the Abstract Expressionists and the geometrical precision and color-sensitivity of the Bauhaus tradition. While his paintings do have a specific subject and refer to personal experience, this referent is not limited to an object; it could be a relationship between forms or something as immaterial as light. While his titles obscure the paintings from an identified subject, as they are coded by number, Nozkowski does invite his viewer to contribute her/his own visual memory bank to comprehend the abstract and the unnamed in his paintings. The interaction between geometric and biomorphic forms found in his paintings also translates into his prints which employ the technical precision of an etched line or aquatint and the lush intensity of the pigment-rich intaglio inks. This variety of marks, the sensitivity to the edge of forms, and the relationship between the organic and the inorganic expand the visual vocabulary to capture shapes in nature, the inanimate, and the urban environment. Nozkowski utilizes the abstract to describe not the unknowable, the modern ineffable, but rather the common experience he shares with his viewer.
Born in 1947 in New Jersey, Thomas Nozkowski received his Bachelor of Fine Arts at Cooper Union in 1967 in New York where he continues to live and work. Before his solo exhibition at PaceWildenstein in 2008, Nozkowski showed extensively across the US and abroad including the Ludwig Museum in Coblenz, Germany (2007), BravinLee program in New York (2006), and the Corcoran Gallery of Art in Washington, DC (1997). Nozkowski was the recipient of the National Endowment for the Arts Individual Artist Grant in 1984 and was the John Simon Guggenheim Memorial Foundational fellow in 1993. Nozkowski's work can be found in several public collections, including: The Metropolitan Museum of Art; Museum of Modern Art, New York; The Hirshhorn Museum; and the Brooklyn Museum.
David Krut Projects have followed the career of this American artist with great interest and have his artworks available both in the USA and South Africa.