David Krut Projects Cape Town recently opened Jacob van Schalkwyk's Solo Project and Print Launch, DOLCEFARNIENTE. The traveling retrospective first opened at David Krut Projects in Johannesburg in March 2017, showcasing a decade of van Schalkwyk's works, ranging from drawings, prints, installations, videos, and paintings. Shown for the first time in Cape Town, the featured painting, Allsorts, is a unique work created between 2013 and 2016. Van Schalkwyk intuitively added layers of lithographic ink to the aluminum substrate, responding to colour and activity in and around his Cape Town studio.   
A contemporary abstract painting painted on an atypical substrate, Allsorts is rooted in traditional painting methods.  Van Schalkwyk researched painting techniques of 16th-century Venetian painter Titian's use of walnut oil. To replicate the same vibrate lustre seen in Titian's paintings, the artist began mixing walnut oil into the lithographic ink.
The addition of walnut oil turns the lithographic ink into a thick paint with a sheen that compliments the aluminum substrate and contrasts with surrounding layers of ink. This is seen in the in the initial layer of burnt umber overplayed by a vibrant yellow.  
The painting surface consists of various layers that have been steadily applied over time. Varying degrees of sheen within the ink – in proximity to layers of glazing – create depth within the painting. The artist starts his process by applying a thick layer of ink to the substrate. Multiple subsequent applications of ink, both fat and lean in consistency, create various textures that make up the surface of the painting. By leaving the painting to dry flat, fat layers of ink contract over time to form rippling drying patterns. Fields of colour are spontaneously painted, with the ink allowed to take on an organic form defined by its own unique character. The textured, painterly application of the ink gives Allsorts a unique sculptural tactility and visual plasticity emphasized by the metallic shimmer of its substrate, its vibrant walnut oil layers of colour and translucent glazed coatings.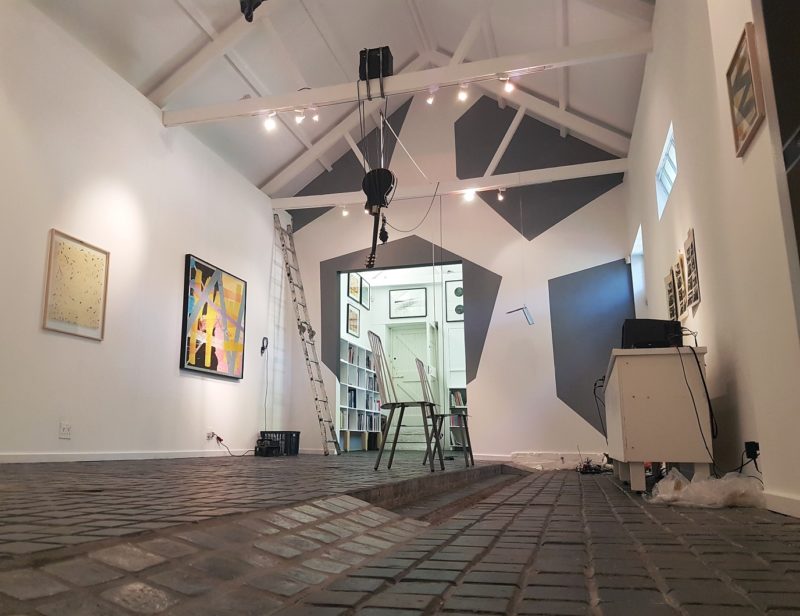 Installation image Jacob van Schalkwyk's Solo Project and Print Launch DOLCEFARNIENTE.
Written by Elize de Beer