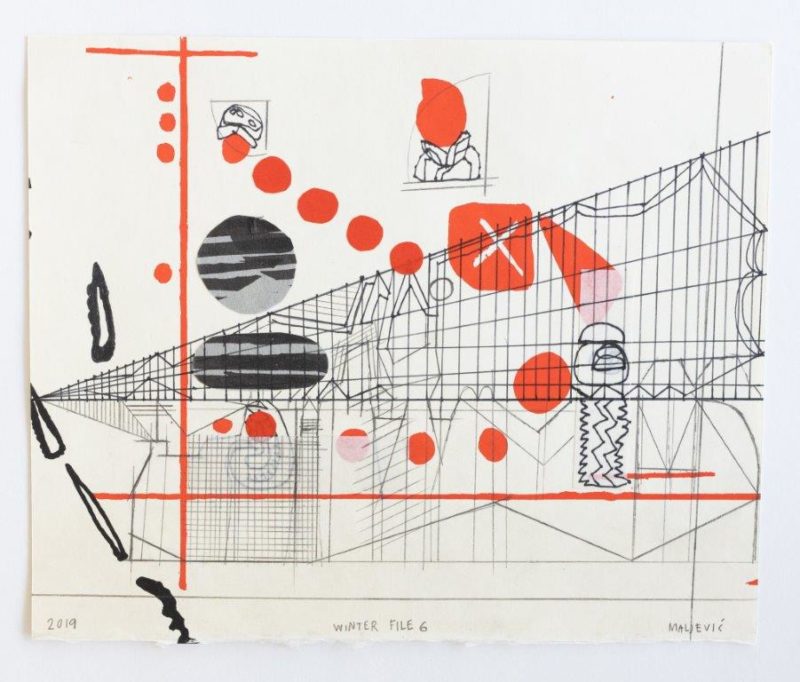 Collaboration History
Maja Maljević first collaborated with David Krut Workshop (DKW) in 2007. Since then, she has created several bodies of work with master printer Jillian Ross and her team at DKW.
In 2009, she had her first solo exhibition at David Krut Projects (DKP) Johannesburg, called Into the Spine, displaying a group of paintings and prints together.
In 2010, she was one of six artists participating in the DKW Monotype Project, which provided an experience for directly painted surfaces to go through an etching press.
In 2011, she had her second solo exhibition at the Johannesburg gallery entitled Bubble and Leak, which again included oil paintings and prints.
In 2012, Maljević had her first solo exhibition at DKP Cape Town, Ex Nihilo, continuing her combination of prints and paintings.
In 2014, she held her fourth Johannesburg exhibition with DKP Johannesburg that was entitled Horror Vacui.
In 2016, Disrupted marked the fifth Johannesburg exhibition of Maljević. It was the first time she rooted an exhibition around a single motif: the abstraction of the iconic imagery of Diego Velazquez.
In 2018, she explored a different process of collaboration with the team at DKW. The ensuing exhibition at DKP Johannesburg was entitled Polytekton, displaying paintings, prints and also ceramic for the first time. The central part of that exhibition, a series of prints called Document for the People, was later put on display at Arts on Main. This work was created by a multiplicity of processes in making numerous sheets and cutouts in various coulours ending up as two-dimensional paper constructions.
In 2019, after the success of the previous collaboration and exhibition, Maljević has continued the work with DKW in preparation for her first exhibition at DKP New York, titled The Silence of the Change.
Maljević has also been part of various group exhibitions at DKP and has done numerous workshops with children about her art.
Biography
Artist Maja Maljević was born in Belgrade, Serbia, in 1973. Having completed her schooling, she spent seven years obtaining her masters in Fine Arts at University of Belgrade, graduating in 1999. She migrated to South Africa in 2000 to follow her brother and cousin who had done so in 1992 and has been living there ever since.
In 2011, she had a residency at NIROX which was followed up by an exhibition of her works produced there.
Maljević's particular style, in which she has been training herself since then, begins with the "dirtying" of the canvas with a layer of bright paint that breaks the baldness of the white surface and opens up the space for Maljević's intuitive jigsaw endeavour. Onto this ground, Maljević builds up surfaces with drips, blocks, bands and waves of colour, searching for harmony between colour and form, line and shape, expansive surface and small detail. For Maljević, physical movement is an important part of the process – never can she be found sitting at an easel. Through her own version of gestural abstraction, Maljević prevents the composition from becoming staid and self-indulgent, as she has put it, and allows action and conflict to occur between the different elements with which she is engaged. Sometimes Maljević incorporates fragments of the world as it is happening around her while she paints, but without dictating their significance to the viewer.
For more on Maja Maljević click here, and for artist's statement please click here.
Scroll down to view works.
Related blog posts
Maja Maljevic develops a "Selfie" painting series,
Related articles
Maljevic is selected as one of four local artists for ABSA Lumen's Drawings in the Sky 2015